Beirut Design Week previews fashion design program at LAU
LAU hosts workshops and lecture on fashion design during Beirut Design Week.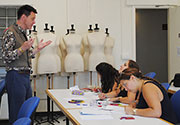 Steel encouraged participants to use color in their designs and to make garments for 'real bodies'.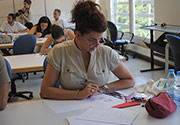 Faculty members and staff took part in the fashion workshops.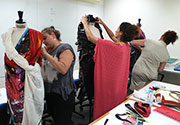 Workshop participants were challenged to drape a mannequin in various fabrics using conventional tactics.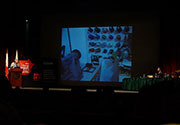 Panelist Sarah Thelwall told audience members to consider three factors when starting off as a fashion designer: investment, the market and production.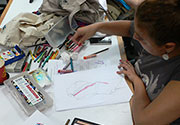 Participants at work.
Click on any photo to view all four pictures.
As Beirut Design Week (BDW) illuminated imaginative minds across Lebanon, LAU showcased its own creative flair by hosting a series of conferences on a rich array of design topics, including food design, design in translation and design for social impact, among others. But it was the workshop and lecture on fashion design that took center stage, offering a curtain raiser to the university's newly launched and much anticipated Bachelor of Arts in Fashion Design in collaboration with Elie Saab, set to commence this fall.
British contemporary artist and fashion academic Jason Steel gave two design workshops on June 28, during which he encouraged students, faculty and other attendees to "be themselves."
"It's really important that students understand it really boils down to knowing one's own identity and one's customer market, and how to make those two things come together," said the award-winning designer, who has recently returned from Hanoi, Vietnam where he served as the director of studies at the London College for Fashion Studies.
He put his pupils through a series of rapid exercises including designing a modern garment inspired by an old photograph, a dress based on the famous sculpture "Nike of Samothrace", a menswear garment and various other design challenges, including drawing with the non-dominant hand.
Steel commented on each and every participant's work, lauding their skills and offering his feedback.
"I loved his constructive criticism because it allows you to learn more and be better," said student Robertina Kouchian. "I'm majoring in marketing, but I'm interested in fashion marketing; it's my passion."
For architecture student Sara Jafaar, who is entering her third year at LAU, it was a chance to try out a craft she'd always been interested in. "Since they announced the launch of the faculty here, I've been really excited. I will take courses in fashion design, and try to mix it with my architecture studies. Jason Steel inspired me to have more confidence."
In addition to the workshops, the Graphic Design Department also hosted a conference on June 29, which included a panel featuring Steel, as well as strategist and consultant Sarah Thelwall, who spoke about fashion design as a career path from a local and global perspective.
Author of a 2011 study on the challenges and opportunities facing young designers in Lebanon, she discussed the importance of improving business processes and honing marketing and communications strategies.
"There's a lot going on in Beirut. There's a greater sense of possibility here than in Western Europe, but understanding the particularities of this market is the key to your success," she told her audience, some of whom were industry professionals.
Fashion design hopefuls flocking to campus this fall won't be making couture gowns on the first day. First, they will learn the basics by following the one-year program common to all design majors, says Dr. Yasmine Taan, associate professor in the Graphic Design Department and coordinator of the Bachelor of Arts in Fashion Design in collaboration with Elie Saab.
In their second year, they will dive into design research and concept development, tailoring, construction, fashion history, research and more. Taan says students will benefit from visiting professors from fashion capitals around the world, the strength of an LAU education, and of course, the stewardship of Elie Saab, whose vision to cultivate local talent is the driving force behind the program.
"For our students," adds Taan, "the key will be to remember that while passion and perseverance are instrumental in forging a successful fashion design program, fashion is as much about marketing as it is about creativity."