Beirut meets the Bayou at LAU NY
Lebanese author Raif Shwayri discusses his new book on the life of his immigrant grandfather in Louisiana and his legacy to the disadvantaged in Lebanon.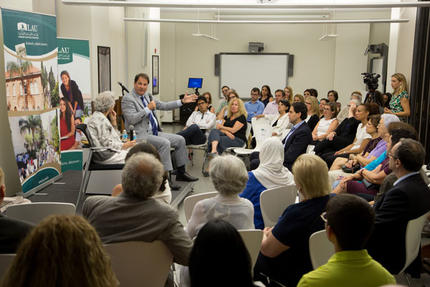 Seventeen-year-old Habib Shwayri arrived at the Port of New York from Lebanon in 1902 with $20 in his pocket. In a little over six months, he had paid off the mortgage to his family's home back in Hadath, Mt. Lebanon. His story, and that of many emigrants to the U.S., was the topic of conversation at LAU NY on July 27, when the Academic Center welcomed Lebanese author Raif Shwayri, Habib's grandson, for a discussion of his new book, Beirut on the Bayou: Alfred Nicola, Louisiana, and the Making of Modern Lebanon, led by New York-based author and scholar Linda K. Jacobs.
"In Raif's book, we learn that the Syrian peddler at the turn of the 19th century was often despised and depicted as 'the scum of the Levant'," said Lina Beydoun, LAU NY academic executive director, as she kicked off the evening event. "Raif counters this view by narrating the success story of his grandfather, portraying him as a hardworking, honest, genuine, loyal and kind peddler in Louisiana … It is the story of millions of immigrants … like my parents, who sought economic betterment in Sierra Leone. Alfred Nicola's story is our story too."
"Alfred Nicola" is the name given to Habib Shwayri by officials upon arrival, his grandson explained describing the 18 years the young man spent peddling textiles on the Bayou in New Orleans, Louisiana, and the prosperity and legacy that hard work subsequently brought his family.
Shwayri's ancestors, like many Christians from Mt. Lebanon during the Ottoman Empire, worked in the booming silk industry. "When the Suez Canal opened in 1869, you could reach the outside world in no time," he said. "So the French began getting their silk from the Chinese, the Japanese, and the economy in Lebanon died out."
Wealthy families with big estates, like Alfred Nicola's, were forced to look for ways to maintain them and their lifestyles. Thus, Nicola set off in search of economic opportunity.
According to Jacobs, who documented the Syrian Colony of Lower Manhattan in her book Strangers in the West, many became peddlers because the trade required little training, and was lucrative.
"It was available to anyone, with or without English language skills; the person needed little or no money to start because they were often given the first pack on credit, and your hours belonged to you," she said. "At that time, factory workers earned about $5 per week, and a peddler could earn from $25-50 a week."
When Alfred Nicola eventually returned to Lebanon, he invested his earnings in real estate and died a wealthy man in 1956. Raif's father Nadim used his inheritance to start Al-Kafaàt Foundation, a non-profit organization with the goal of educating children from socially disadvantaged backgrounds, as well as those with disabilities.
"When we first met with Raif in 2013 to talk about his ideas for a book, the novel was just a gleam in his eye," said Donna Dixon, co-director of SUNY Press, which published Beirut on the Bayou. "It is a joy to support someone who does so much good in this world."
Indeed, the money Alfred Nicola made in America has helped serve more than 6,000 people in Lebanon today.
Al-Kafaàt Foundation has seven different centers focusing on various aspects of education and social welfare for the Lebanese. It is also home to Al-Kafaàt University. Since 2010, the foundation has partnered with SUNY to develop higher education initiatives.
This event was co-sponsored by the Consulate General of Lebanon in New York, SUNY Press, and SUNY Global.