Beirut theater comes to New York
A collaboration between LAU, AUB and theater professionals results in world premiere of Lebanese writer Issam Mahfouz' "The Dictator."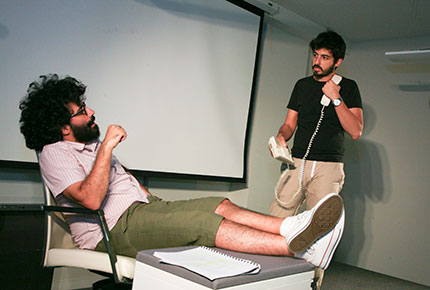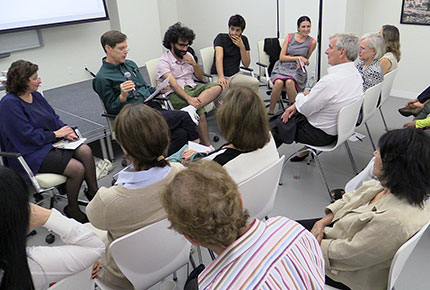 On September 14, LAU NY hosted a performance and panel discussion titled "Conversation on Contemporary Beirut Theater." The event brought together a group of professors and actors from LAU, the Tahweel Ensemble Theater and the Theatre Initiative at the American University of Beirut.
The evening started off with actors Sany Abdul Baki and Raffi Feghali performing a scene from The Dictator before an audience of roughly 40 people. Film clips of other Tahweel productions, including Sa'dallah Wannous's The Rape, Rituals of Signs and Transformations, and Watch Your Step ­— a piece about the Lebanese Civil War — were screened to give the audience a broader taste of Beirut's theater scene.
The actors then sat together with director Sahar Assaf, translator Nada Saab, and playwright and translator Robert Myers for a panel discussion.
"In some cases, texts are born out of specific historical moments and they make allusions to these moments," said Nada Saab, assistant professor of Arabic studies at LAU who worked with AUB's Robert Myers to translate The Dictator. "And once you transform them into English, you have to make sure they elicit a response from the audience that is similar to what the response would be in Arabic, and that is the challenge."
Written by Lebanese writer Issam Mahfouz, The Dictator is the story of a delusional tyrant posing as humanity's long-awaited savior.
Mahfouz was a prolific writer, penning 45 books throughout his life. In the modern Lebanese-Arab theater movement of the late 1960s and early 1970s, he pioneered the transformation of theatrical writings in Lebanon from a formal "literary" mode into a language of dialogue.
"Mahfouz was a master of language. He was a poet and the literary editor of An Nahar for 30 years," said Robert Myers, playwright, translator and professor of English and creative writing at AUB. "So the play is about the Arabic language, and what might be called the Arab predicament in the late twentieth century, but it has echoes of other works from a variety of times and cultural contexts."
Translating those contexts into English for an American audience was a collective effort. And indeed, the collaborators brought ample talent to the panel in New York. Saab received her Ph.D. from Yale in Religious Studies and taught Arabic for over a decade at Princeton and Middlebury before returning to LAU. Feghali travels extensively as a peace-builder and is finishing a master's degree in Switzerland while Adbul Baki, a professor of Drama at LAU, studied in London and works in Jordan in addition to Lebanon. A former Fulbright scholar who received her master's degree in the U.S., Assaf was invited to the prestigious Lincoln Center Directors' Lab last summer.
Their diverse backgrounds made them the perfect team to present The Dictator to the LAU NY audience. Mahfouz's work was infused by a variety of influences from the Arab world, Europe and beyond. "In that sense," explains Myers, "this seemingly simple play with a minimal cast is the product of a kind of cosmopolitan perspective that one only finds in a place like Lebanon."
The panel at LAU NY took place in conjunction with The Dictator's English-language world premiere at the "Between the Seas Festival," a celebration of Mediterranean performing arts in New York.