Improving ties between civil society organizations and international donors
Experts met at LAU's Beirut campus to create recommendations on promoting aid effectiveness and democracy promotion in the region.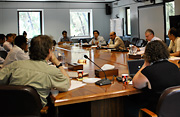 Civil society leaders from around the region discuss foreign donor aid with academic experts during the "Empowering Citizens: Elections, Civil Society and Peacebuilding" workshop, held at LAU Beirut.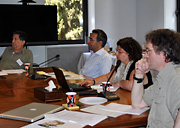 From left: LAU faculty members Dr. Fawwaz Traboulsi and Dr. Bassel Salloukh, with Dr. Marie-Joelle Zahar (Université de Montréal) and Dr. Rex Brynen (McGill University) from Canada.

Al Bakir Mukhtar (middle) of the Khatim Adlan Center for Enlightenment and Development in Sudan speaks about how to best measure the efficacy of donor aid.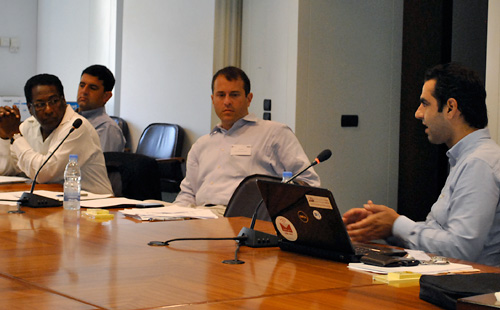 Samer Abdallah (right) of Nahwa al-Muwatiniya in Lebanon offers recommendations to improve financial transparency in NGOs.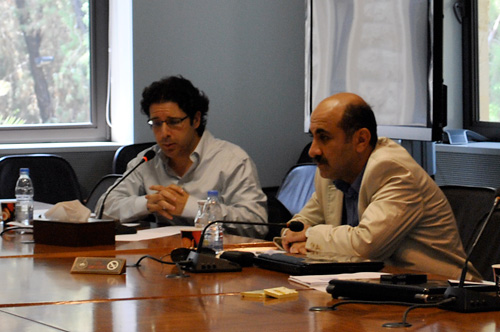 Mesrur Aswad (right) of the Iraqi Institute for Human Rights chronicles how NGOs in Kurdistan have changed after the war in Iraq.
Click on any photo above to view all five images.
Academics from various universities and civil society representatives from around the region met at LAU to develop recommendations for improving the efficacy of aid donations, July 21-22.
Titled "Empowering Citizens: Elections, Civil Society and Peacebuilding," the workshop brought together activists from post-conflict societies such as Lebanon, Iraq, the Palestinian territories, and Sudan to develop a better understanding of the role of civil society in promoting democracy and engaging countries in electoral reform.
"Most importantly, the workshop aimed to objectively understand civil society organizations and donor dynamics [in the four societies], and what the differences are by looking at localized case studies," said Dr. Bassel Salloukh, LAU associate professor of political science, who was the co-director of the event together with Dr. Marie-Joelle Zahar from the Université de Montréal, Canada.
Participants discussed how CSOs and non-governmental organizations can improve their work on democratization in divided societies, how to best measure a program's effectiveness, as well as how donor priorities shape local agendas.
The workshop explored case studies from different regions of the world, to get a holistic view of how donors and CSOs engage.
According to Salloukh, the result will be a set of recommendations for addressing aid being used to forward donor agendas, donor fixation with "success stories" and "empirical proof," and the impact of short-term thinking on funding.
Salloukh also noted that despite geographic distances, speakers targeted many similar issues and themes.
Mesrur Aswad, from the Iraqi Institute for Human Rights, outlined the history and challenges of NGOs in Iraq from 1996 onwards. After the start of the war in 2003, many international bodies that became donors forced local organizations to adapt to their style, according to Aswad.
"Most of the already active NGOs were unable to continue, because international donors stopped their aid to them, and new NGOs arose," he added.
The focal point of a speech by Al Bakir Mukhtar, from the Khatim Adlan Center for Enlightenment and Development in Sudan, was whether it was more effective to distribute aid directly to CSOs, or to work within existing government agencies.
Mukhtar related a story of government officials receiving millions in aid from the Arab League to help resettle those displaced by the conflict in Darfur. "There were only [a few] houses built," he said, adding, "And rumors went around that the head of the project embezzled the funds."
According to Mukhtar, international donors remain hesitant to give funds directly to aid organizations in countries where the government may be hostile to aid efforts, such as in Sudan.
The distribution creates a culture of mistrust, said Mukhtar, adding that few NGOs work together, or directly with international donors, for the betterment of society. Mukhtar stressed the need for equal partnership between all acting bodies.
According to Samer Abdallah, the general coordinator of Nahwa al-Muwatiniya in Lebanon, CSOs need more transparency in their financial structures in order to build trust with donors.
"We have to ensure that money is going through the channels that will create change," he said, before criticizing the rising culture of NGOs as "career-building opportunities."
"People no longer volunteer for NGOs," he said. "Instead, they want to work with NGOs to network, build capacity, gain marketable skills, and travel."
As NGOs become increasingly coveted employment options, Abdallah believes that fewer people will be willing to act as unpaid volunteers.
The workshop, funded by the International Development Research Centre (IDRC), was a follow-up to a 2009 workshop on the same topic, as part of a three-year (2008-2011) collaborative project with Université de Montréal to publish recommendations on the topic.