Bright future for pharmacy students
LAU's School of Pharmacy enters an exciting new phase, launching a student society and opening opportunities to students beyond graduation.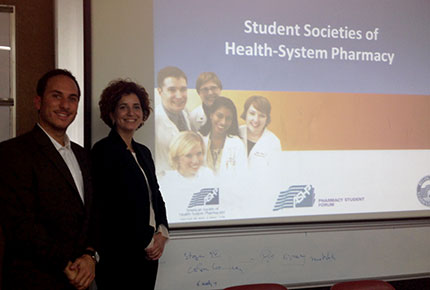 On November 19, LAU pharmacy students gathered at the University Medical Center - Rizk Hospital (LAU Medical Center–Rizk Hospital), to mark the launch of the Student Society of Health System Pharmacies (SSHP). The first of its kind outside the U.S., the society's fruition shows that pharmacy is evolving toward a bright future in Lebanon with the university leading the way in the region.
Last May, Dr. Wissam Kabbara, clinical assistant professor of pharmacy, applied for a grant from the American Society of Health System Pharmacists (ASHP) with the help of his students and won, paving the way for LAU's School of Pharmacy to launch its own exciting chapter, with the SSHP. This initiative will offer pharmacy students a platform to engage within a student society, shape their own studies, connect globally to those within the pharmacy field and build their future careers.
Along with the society's launch, the first in a series of residency training information sessions took place with Kabbara and Dr. Lamis Karaoui, clinical assistant professor and director of experiential education. The school aims to guide students toward ASHP accredited pharmacy residencies (PGY1 and PGY2) in a wide variety of hospitals in the U.S. These residencies give students hands-on training allowing them the opportunity to interact with patients, as well as improving their clinical and professional skills, thus giving them a competitive edge when it comes to the job market.
"Such professional experiences will help students secure jobs as clinical pharmacists, as well as within academia," Kabbara said. "Gaining experience in the U.S. - where in many ways the field is much more advanced - means you have the opportunity to apply what you've learned in the U.S., back in Lebanon." Kabbara himself is the perfect example of how a residency program can speed up a graduate's career progression. After graduating from LAU with a B.S. in pharmacy in 2005 and a Pharm.D. in 2006, he completed a PGY1 residency with a focus on infectious disease at St. Alexius Medical Center in North Dakota. Upon his return to Lebanon in 2008, just a few months after completing his residency, he joined LAU's School of Pharmacy as an assistant professor.
Kabbara began by outlining the benefits of being involved in SSHP and ASHP - a society that counts 40,000 members - from networking and participation in international counsels to professional and career development. "It's a society for students that should be driven by the students themselves," Kabbara emphasized, speaking of his hope that the content of future sessions will be partly shaped by students themselves.
Next, Karaoui talked through the benefits of residencies for career development and detailed the application process. "I want you to think about it as a door opener," she told students. "It will increase your critical thinking, develop your leadership skills, expand your professional network and put you in direct touch with many health care professionals. It's a competitive advantage in the job market," she stressed.
Dr. Nidal Chamoun, a clinical coordinator at the LAU Medical Center–Rizk Hospital and clinical assistant professor, who also attended the session, took part in two residencies herself: PGY1 general practice residency and PGY2 cardiology and anti-coagulation residency, both in the U.S. "It's broadened my capabilities as a clinician, enhanced my critical thinking and improved my interpersonal skills," she said. "I would highly recommend them to anyone."