Bringing clinical care to the camps
LAU students join with Volunteer Outreach Clinic to provide healthcare to residents of Shatila refugee camp.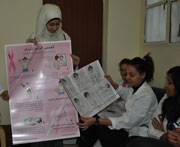 LAU student volunteers display posters with steps for breast self-examinations, used for breast cancer detection.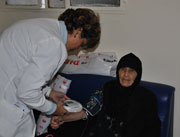 Dr. Myrna Doumit takes an elderly woman's blood pressure at the clinic.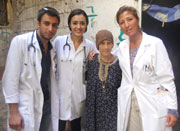 Dr. Mona Haidar (right) with her VOC helpers and one of their favorite regular patients.
Click on any photo above to view all three images.
In early February, a group of LAU medical, nursing and Pharm.D. students began its regular visits to the Volunteer Outreach Clinic (VOC) in the Palestinian refugee camp Shatila as an integral part of LAU's social medicine program, which aims to mold students from the three schools into compassionate and community-oriented healthcare professionals.
Also participating in the visit were three international students currently completing an elective in social medicine and global health at LAU's Gilbert and Rose-Marie Chagoury School of Medicine (SOM).
Nima Sheth, a fourth-year medical student at the Saint Louis University in Missouri, joined the program because of her interest in social justice and her desire to work with the phenomenon of post-traumatic stress disorder among refugees.
"The team has great energy and everyone shows real empathy with the patients," she says. "It's good to be exposed to underprivileged environments, because there's much more we can help the patients with here."
More than 8,500 residents currently live in acute privation within the one-square-kilometer bounds of the Shatila camp, one of Beirut's most impoverished communities.
Initially established in 2001 by physicians, medical students and volunteers from the American University of Beirut, VOC offers primary care services to camp residents every Thursday, and occasionally for half-days on Saturdays.
The clinic is not officially under the umbrella of any university. It is now staffed, however, largely by students and physicians from SOM's Social Medicine and Global Health program.
Under the supervision of Dr. Mona Haidar, the program's coordinator and an SOM instructor at LAU Byblos, and Dr. Myrna Doumit, associate professor and assistant dean at the Alice Chagoury School of Nursing, students participate in the assessment, diagnosis and treatment of patients.
"We believe in the team approach. One person can't cover all of the patients' needs, and we cannot function solo," says Doumit.
"Inter-professional education is the founding pillar of healthcare education and delivery, and that's what we're implementing through VOC," she notes, adding that the nutrition and social work programs will soon be joining.
VOC's mission is to provide, at minimal or no cost, quality health services to underprivileged and neglected individuals in Lebanon, regardless of race, gender, geographic location and religious affiliation. VOC promotes a message of solidarity among both patients and practitioners.
Despite limited availability of medical equipment at the clinic, the LAU team provides reliable care and responsive support to VOC patients.
Since most Shatila residents can rarely afford the laboratory tests they need, however, financial support is needed to make the clinic an ongoing primary healthcare facility for its patients, as well as a comprehensive learning site for students.
Impressed with LAU students' contributions to the clinic, Assistant Vice President for Development Robert Hollback hopes to find ways to increase the larger community's involvement with the VOC.
"Students and faculty members are providing the only healthcare available at the clinic right now," says Hollback, adding that sustainability remains an unresolved problem since the clinic relies mostly on donations.
"We currently have a $50,000 funding proposal, and we're waiting for it to come through. But this is still not a sustainable source of funding," he says.
Up to ten patients frequent the clinic every Thursday, and the numbers are steadily climbing.
"We want to attune our students to the idea that the patients are coming from a certain community, and tailor our care accordingly," Haidar says, adding that community assessment lies at the core of the process.
Lara Oson, a third year medical student at LAU, finds the VOC experience to be genuinely gratifying.
"We get to see the patient from the very beginning, make a plan and discuss it with Dr. Haidar. It's a big responsibility and we feel that we're truly making a difference," she says.