Bringing research to the light
The Social Sciences Department introduces two research methods courses to psychology majors.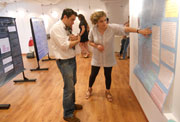 The first Annual Poster Conference in Psychology was organized as part of Research Methods II.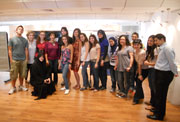 The courses' student-driven approach allows them to select their own research topics, and connect with their future research colleagues, as well as faculty interested in their topic.
Click on any photo above for larger version.
Ever since their introduction to the Psychology program's undergraduate curriculum last year, Research Methods I and II have become major core requirements for all psychology students, providing them with the needed skills to design, conduct and analyze research, with a special emphasis on the need for psychological research in the Lebanese context.
"The main aim of these courses is to provide students with the basic research tools to help design and conduct their own studies, and become independent and collaborative researchers," says Dr. Maria-Jose Sanchez-Ruiz, assistant professor of psychology and instructor of both courses on the Byblos campus.
Offered by the Social Sciences Department, Research Methods I and II cover advanced research designs and statistical analyses in psychology, combining lectures and lab-based sessions, where the students take part in organizing their own experiments, and solving case studies.
More importantly, the courses' student-driven approach also allows them to select their own research topics, and connect with their future research colleagues, as well as faculty interested in their topic.
Sanchez-Ruiz's counterpart in Beirut, Dr. Samar Zebian, reminds us that quantitative research is just as critical and consequential as qualitative research - and both types of research are taught within these courses.
"Psychology is a science that is - and should be - responsive to the needs of the community. Psychological science must serve people," says Zebian.
While quantitative research helps to determine the presence and magnitude of a certain phenomenon, explains Zebian, qualitative research tries to deal with understanding why this particular occurrence is prevalent and the meaning systems underlying an occurrence.
"Psycho-social processes can't be measured using solely statistics and numbers. We need to have a sense of the meaning behind these figures, and understand the processes involved in answering the queries that we have as psychologists," maintains Zebian.
As part of Research Methods II, Sanchez-Ruiz and Zebian organized the first Annual Poster Conference in Psychology on May 23, where students from both campuses showcased their final projects (which included literature review writing and research design) in front of their classmates and various faculty members.
The conference aimed to provide a platform for ideas exchange within the field, and present the students with the opportunity to disseminate their research findings. Research topics ranged from gender discrimination and bullying, to obedience and emotional intelligence.
Noor Khalife and Sara Radi, whose research topic was the life narratives of Lebanese mothers, conducted a qualitative study for their research, unlike the vast majority of the students, who opted for quantitative research.
"This conference allowed most of us who are still amateur researchers to ask big questions," says Khalife.
Maribel Zahr, who also showcased her project at the conference, says the forum "made everything we learned in class more concrete."
"Even though it was a lot of work, the conference was unparalleled with regards to dealing with judges, in order to explain and defend our projects," she explains.
Indeed, the conference provided more than a mere platform for students to showcase their research outcomes - it allowed them to start building their research resume, says Sanchez-Ruiz.
Additionally, as admission for Master and Ph.D. programs is growing more and more competitive, maintains Sanchez-Ruiz, early research training gives Lebanese students a great push should they wish pursue graduate study abroad.