Building a design college in Oman from the ground up
LAU's first venture to provide academic coverage to the Scientific College of Design in Oman realizes unexpected results.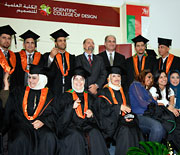 The Scientific College of Design in Oman — developed with the help of LAU's University Enterprise Office — has held two graduation ceremonies so far, in 2008 and 2009 (shown here), graduating a total of 280 students.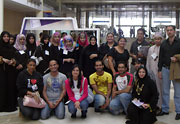 The college organizes many field trips in the Sultanate of Oman and abroad, for educational and entertainment purposes. Here, a photo taken during a trip to Index Dubai 2009, an international furniture and interior design exhibition.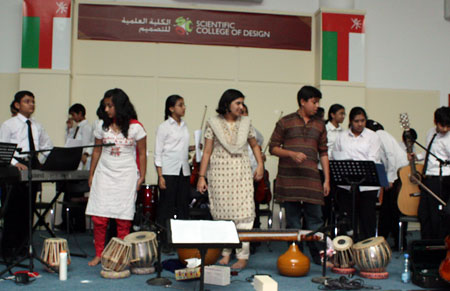 Spring 2010 Open Day. Open Day is considered the leading annual event on the SCODE's campus, which includes entertainment, a cultural and scientific competition, social activities, games, and musical performances.
Click on any photo above to view all three images.
No one could have quite imagined just how far LAU's University Enterprise Office would have come in guiding and assisting in the buildup and growth of the Scientific College of Design in Oman, following an agreement to provide the college with academic coverage in 2004, the year it was established.
After several years of tireless efforts by an UEO oversight committee comprised of LAU faculty, the college was transformed from a struggling institution with modest resources into a model for the region with state-of-the-art facilities, cutting-edge instruments, and a rapidly increasing student and faculty body.
"This was LAU's first such partnership and today we can say that not only is it successful, but it's one of the top design schools in the GCC countries," says Dr. Walid Touma, UEO director, who is also an assistant professor at LAU's School of Business.
Overcoming the multiple initial obstacles and as a result of the commitment and combined efforts of the people involved, SCODE today has surpassed all initial expectations, with a student body of roughly 800 — far more than originally anticipated.
The college currently offers four degree programs — B.S. in Graphic Design, B.S. in Interior Design, B.A. in Fine Arts, and A.A. in Fashion Design — with new and expanded programs on the horizon.
In March, LAU renewed the contract with SCODE for an additional three years.

Great strides despite initial difficulties
As SCODE prepares to welcome its newest class of students in early October, people involved in the college's development emphasize the great strides that have been made, despite the uncertainty and frustration they experienced in the beginning, when they realized they might have bitten off more than they could chew.
"LAU had committed to a lot of issues in the [initial] contract with SCODE that we learned very quickly we could not sustain," Touma says. "We also realized that the quality quagmire we were getting into was a bit hard to handle."
Originally, the agreement was formed so as to guarantee SCODE graduates a degree equivalent to that of LAU. What no one appeared to expect was a student body too ill prepared in English to follow lessons.
Anticipating to accept roughly 500 students over five years, SCODE was able to admit only around 60 in its first year.
Without wasting time, Touma and Dr. Cedar Mansour, vice president and general counsel at LAU, along with the multidisciplinary oversight committee — including faculty from backgrounds in English, design, fine arts, architecture, math, testing and services, and accreditation and quality control — were dispatched to Oman to oversee the implementation of the agreement and the needed adjustments.
"We moved very quickly into addressing what was missing in terms of our expectations and to limit as much as possible our commitments that we could not deliver on," Touma says.
Key to the positive change was also the SCODE management's response to the needed adjustments — in particular, SCODE's Chairman Mohammad Adel Husni, and his wife and Vice Chair Thuraya.
Things began to turn around immediately, largely due to the efforts of Dr. Ziad Mawlawi, a former LAU professor of architecture who served on the oversight committee from 2004-2008.
After the end of the SCODE's first year, Mawlawi was seconded by LAU to Oman and spent the next three years serving as SCODE's founding dean, where he sometimes spent 16 hours every day working to ensure the college succeeds.
"I believed that we at LAU have a responsibility toward the Arab world to benefit from our years of academic experience. We have this wealth of educational know-how and leadership. So why can't we transfer this educational leadership to other developing institutions in the Arab world?" Mawlawi says.
Mawlawi remained undaunted throughout the experience, describing his excitement with the opportunity to build a design school from the ground up, and leave a long-lasting and meaningful impact on the institution and its students.
"It really was not a job," Mawlawi says. "It was a vocation."
After the second year, LAU had revised the agreement with SCODE, relaxing English-level entry requirements and no longer promising to offer LAU-equivalent degrees. New faculty members had been hired, and courses had been redesigned to incorporate more Arabic.
Still, there were many other challenges faculty members faced, mainly with the task of forming relationships with the students, most of whom came from a deeply conservative background and tended not to speak or interact in the classroom.
"As a designer, you should be very open. You need to share your work," says Tarek Khoury, co-chair of the Graphic Design Department at LAU Byblos and one of the oversight committee members, describing how in the beginning the students shied away from revealing their art.
"It was really difficult at first to get the students to open up. There were too many restrictions and no communication, but I loved this challenge," Khoury adds. "It was like giving life to a seed, watering it, feeding it the right nutrients, then watching it grow."
To the immense surprise of many, the students began opening up with time, as a result of the friendly and socially interactive environment on campus, where they felt free and comfortable to approach their dean and instructors.
Touma recalls one particular student who during her first year at the college would not even speak to her professors. After her final year at SCODE, she graduated at the top of her class, and during her graduation ceremony, she delivered a powerful poem about her experiences at the college that brought tears to Touma's eyes.
"We've created an environment where trust is established and the students are able to live up to their dreams and to crack the boundaries of creativity and the boundaries of imposed conservatism, thus helping the students free their spirits within the limitless world of design," Touma says. "That is how I measure success."