Building better career services for Iraqi students
LAU holds a workshop for administrators from Iraqi universities, adding to its reputation as a regional hub for professional development.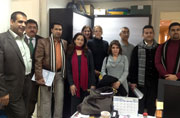 Participants were introduced to the different roles of traditional and modern career centers and the advantages of career guidance services.
Click on the photo above for larger version.
LAU's Career Guidance Office held a workshop for a group of Iraqi university professors and administrators as part of a larger project sponsored by the International Research & Exchanges Board (IREX) to promote higher education reform in Iraq.
IREX, a nonprofit organization that aims to improve the quality of education and foster pluralistic civil society development, is currently overseeing the Iraq University Linkage Program (ULP), which works with Iraqi faculty and administrators to strengthen university curricula and improve career services for students.
In January, ULP Project Director Lori Mason contacted Aya El-Mir, senior career guidance officer at LAU Beirut, asking her to host a team of Iraqi career support administrators for the purpose of observation, information gathering and networking.
"Lori [Mason] asked me to provide my input on how to successfully create and manage career support services for students, and how certain approaches can be tailored to various universities in Iraq," says El-Mir.
El-Mir subsequently organized "Creating and Managing Career Guidance Services in Iraq," a workshop which drew seven administrators from the University of Duhok, University of Baghdad, and University of Technology, Iraq, to the Beirut campus in February.
The workshop covered various topics, highlighting the Iraqi educational sector before and after the 1991 uprisings, the different roles of traditional and modern career centers, and the advantages of career guidance services.
At the core of the workshop was the career development process, which helps to identify the students' interests, and pairs them with a career path that is compatible with their character while also keeping market needs in mind.
"We need to be focused on improving the image of public universities in Iraq on a smaller scale," says Dr. Heja Sindi, a participant from the University of Duhok in Iraqi Kurdistan, adding that the training was very valuable.
"We want to be able to create career services for Iraqi students, while making sure we are using a model that is tailored to the needs of Iraqi universities and the Iraqi market," says Mason.
"Our Iraqi colleagues have begun developing their work plans based upon information gleaned during this visit, and it has been most helpful," she adds.
The training workshop, and the nod from IREX, adds to LAU's growing reputation as a regional hub for professional development. Since its inception, the Career Guidance Office has provided the university's students with the pertinent means to ensure successful and effective career planning, both during and after their matriculation.
In fact, the four-year career plan that starts the day students join the university and draws on their solid understanding of their interests and hands-on experience, has helped LAU remain on the cutting edge in terms of career guidance.