Building Capacity Award granted to LAU in the "Unleash Your Creativity" competition
LAU marketing and communications students join forces and bag award for their Fishermen's Friend marketing campaign.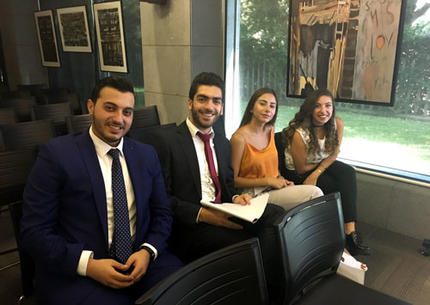 The blazing temperatures of Beirut's summer did not put off the LAU students taking part in the "Unleash Your Creativity" competition, launched by the Fernand Hosri Group. The contestants from six Lebanese universities, divided into 50 teams, worked on conceiving an innovative marketing campaign for one of the group's products, the Fisherman's Friend strong menthol candy.
LAU students enrolled in the Integrated Marketing Communications course, held this summer by Professor Joelle Majdalani Hachem, comprised three groups, two of which made it to the semifinals and bagged the Building Capacity Award, instituted by the Ministry of Labor.
"Everything I was teaching I referred back to the project, so that the theoretical approach became practical," says Hachem. "The students had only one month to complete the project but they were very motivated and it was a huge success."
The CSR initiative launched by the Hosri Group is part of the UN Global Compact initiative, aimed at encouraging businesses worldwide to adopt sustainable and socially responsible policies, and to report on their implementation. "LAU students have done a great job in a very hard competition," says Paula Atallah, senior marketing officer with the Hosri Group. "They presented great ideas and will surely be approached for future projects."
The participating groups received coaching and a certificate that, together with the mention of the award, will enrich their CVs with tangible proof of their hard work.
"This was more than just a class project as we were given training and a qualification," says Anas Ghattas, a senior year student in Marketing and Hospitality. His team worked on developing a vending machine that dispenses Fisherman's Friend sample products in exchange for a picture of the recipient, which is then automatically uploaded to the Fisherman's Friend Facebook page.
"We wanted a campaign that was fun and entertaining but also had a social media component," says Ghattas. "We then had to present our idea to the Hosri Group in a persuasive way in just fifteen minutes. As they taught us, telling is not selling."
LAU student Nouran Harfouche's team chose to work on a bus that would carry Fisherman's Friends products round different university campuses, its colorfulness representing the different types of candies available. "I am a communications student, and working with marketing students taught me to take budget into consideration," says Harfouche. "This will be a precious skill when, hopefully one day, I produce my own film."