Building peace by bridging gaps
LAU and U.S. institutes bring together local and regional conflict resolution facilitators and academicians to enhance capabilities and produce valuable resources.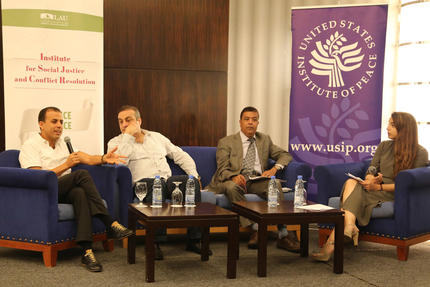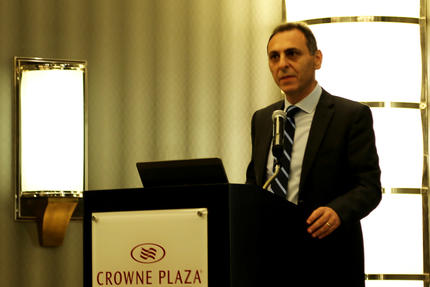 LAU's Institute for Social Justice and Conflict Resolution (ISJCR) partnered with the United States Institute of Peace (USIP) to mark the launch of a publication that presents 10 case studies of peace building initiatives from across the region.
The studies were each written by a member of the Regional Facilitator's Forum, a body established by USIP in 2016 with the aim of promoting an exchange of ideas and best practices in peaceful conflict resolution.
"The forum members have been convening a number of times over the past two years, but today is the first time they come together with academics," explains Imad Salamey, director of ISJCR, which hosted the event at Beirut's Crowne Plaza hotel last week.
"Much work is being done in peace building across the region by civil societies and international organizations, but it hasn't yet been compiled or examined," notes Salamey who is also associate professor of Political Science at LAU. A documentation and study of these experiences, he adds, will enable the production of materials that can be used in teaching peace building in the region.
To this end, USIP asked ISJCR to partner with it in the production of a second book that will expand on the case studies, and include academic theory and analysis. "The LAU institute and Dr. Salamey himself are very strong when it comes to research," says Manal Omar, associate vice president of USIP's Middle East and Africa Center. "This partnership will enable us to pull together the expertise of peace building facilitators in the region, not only in implementation but, also importantly, in thought leadership."
Omar aims to advocate for the book―which will be peer-reviewed and published in English in the coming months―to be incorporated in the curricula of conflict resolution programs and centers. It will not only draw upon the experiences of professional facilitators but also on those of informal peace builders.
"There is so much to learn from the humble interventions of local peace builders, often leaders of small local communities. They are rich in value and insights," explains Darine El Hage, regional program officer at USIP, who led the 24-month program that will culminate in the publication of the work with LAU.
"It's been really exciting. I enjoyed hearing the different perspectives from the panelists who actually work on the ground," says Yasna Haghdoost, a visiting research scholar at LAU's ISJCR specialized in conflict prevention. "This event and the books are invaluable as they bridge the gap between academicians and facilitators to create a more comprehensive understanding of conflict resolution."