Business intelligence project wins student computer science competition
In pictures — Eight teams of computer science students competed for the best capstone project during the annual end-of-year contest.
In pictures —
Two recent LAU computer science graduates, Nadia Moati and Farah Chamseddine, were chosen as the winners of the annual capstone project competition, among 17 students who submitted a total of eight final-year projects.
The projects were unveiled during an exhibition at LAU Beirut's Academic Computer Center on May 24.
The winning project, a business intelligence portal, allows businesses to streamline day-to-day operations by automating data-analysis processes. The main function of the project is to help businesses identify the strengths and weaknesses in performance in order to make more intelligent decisions.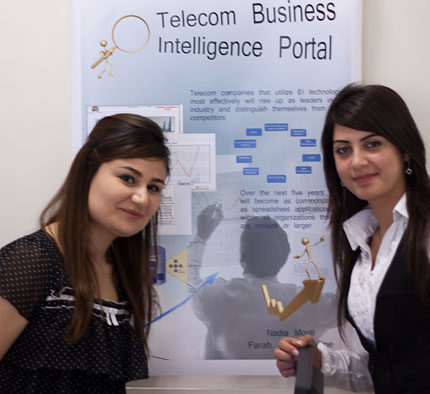 Chamseddine (left) and Moati pose with a poster of their project during the exhibition, two days before they were announced winners. The idea for the portal came to Moati sometime after she began working in the domain of business intelligence two years ago.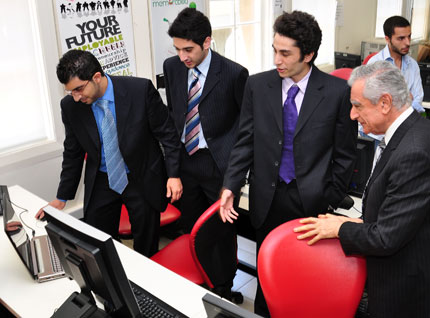 The students gave presentations on their projects before running them at the exhibition in the computer center. Here, students (from left) Ahmad Itani, Tarek Sousan, and Samer Kaddoura explain the function of their project, an SAT Recruitment Agency, to LAU President Dr. Joseph Jabbra who was among the guests.
"Seeing Dr. Jabbra there gave students a boost of morality," says Dr. Samer Habre, chair of the Mathematics and Computer Science Department at LAU Beirut.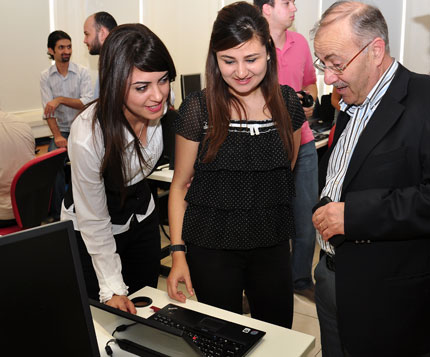 Moati and Chamseddine — here with Dr. Fouad Hashwa, Dean of the School of Arts and Sciences in Byblos — say their project took about five months to complete.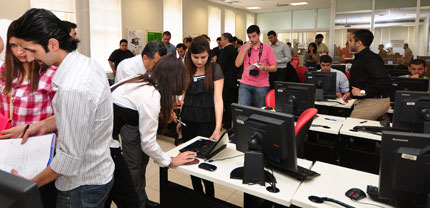 Representatives from the computer science industry were also invited to the event, where they had the opportunity to meet students and scout for potential recruits.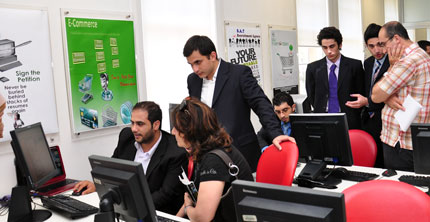 Habre says the projects were evaluated based on input from the students, faculty and company representatives who attended the event.
In recent years, a local software company called Software Design Consulting Group has played a part in supporting the competition through cash prizes for the winners. Last year, the group awarded the capstone-project winner $2,500. As a catch, Habre explains, the company must approve the winning project.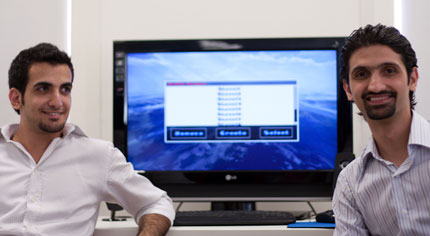 Students Ahmad Shami (left) and Najem Sleiman designed a video game where the player travels through a maze. Moati and Shamseddine say the video-game project was impressive as well.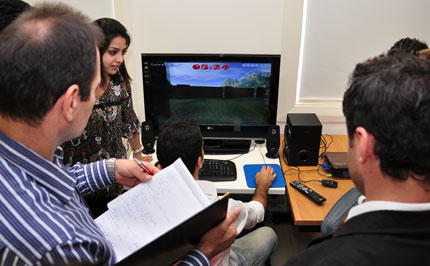 Dr. Ramzi Haraty (left), associate professor of computer science, was one of the faculty advisers who guided students through their projects.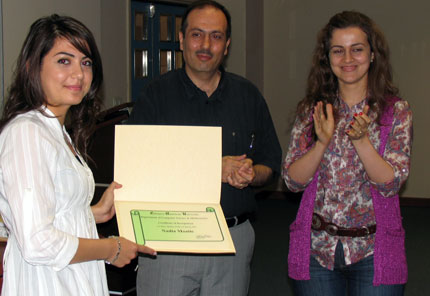 Moati and Chamseddine were announced winners during a gathering on May 26. From left: Moati, Habre, and Dr. Sanaa Sharafeddine, assistant professor of computer science who was the team's adviser.