Business students in New York
LAU NY hosts business students for management and compliance study tours.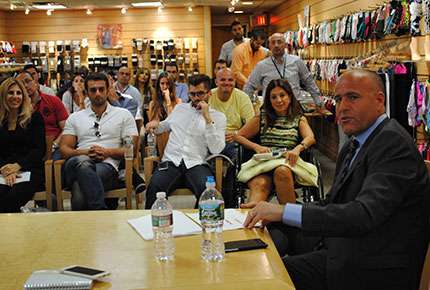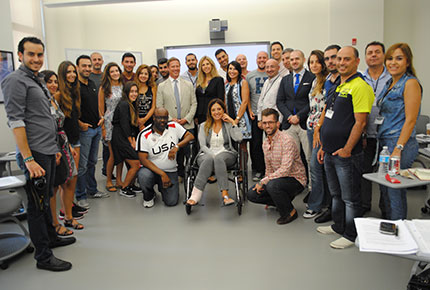 In August, the Adnan Kassar School of Business organized two courses at the New York Headquarters and Academic Center: "Graduate Study Tour in Management" and the LL.M. course "Compliance for Financial Institutions."
The ten-day study tours allowed graduate students the opportunity to interact with executives from leading companies and to get an inside look at businesses and government bodies relevant to their field of study.
According to marketing professor Nadia Shuayto — who taught the management course — the curriculum was designed with the students' needs in mind. "Sixty-seven percent of Lebanon's industry is reliant on tourism, so it's very likely these students might be working in a company geared towards tourism," she said. "And to be successful, they have to know how to manage services."
Shuayto's course comprised topics such as managing non-profit organizations, illustrated by field trips to the United Nations and NYC & Company, New York City's marketing arm. It also covered retail management, which included trips to the oldest luxury department store chain in North America — Lord & Taylor — and to fashion brand Capelli New York, owned by Lebanese businessman George Altirs.
"Stop waiting for things to happen. Instead, go out and make them happen," said Altirs, who with hard work, commitment, and perseverance was able to build GMA Accessories Inc. dba Capelli New York into a successful business globally. He is currently a major manufacturer and distributor of women's and children's apparel, footwear, jewelry, handbags, ladies and kids' accessories, novelty and gift items. He spent over an hour with the students, explaining how he built, and how he continues to build, his business and answering questions from the students.
"I came for the course, but really, I came for the connections and for the exposure to all the different companies we got to visit," said Executive M.B.A. student Dima Braiteh Chami.
The packed syllabus also made room for management of global luxury brands. Guest speakers on the topic included the vice president of Barney's Department Store and the senior vice president of communications for Hermes.
While 30 E.M.B.A. and M.B.A. students were learning about multinational corporations in one classroom, in another, 15 LL.M. students were drilling down on the intricacies of the U.S. legal system and the rules governing financial institutions that deal with the U.S.
Instructor Joey Chbeir, a lawyer with the firm Maynard & Cooper in Birmingham, Alabama, says the knowledge is critical to anyone who does business on a global level.
"The dollar is, and will probably remain, the main trade currency in the world. If you don't understand how the law works in the United States, you will never understand what you should do in order to keep the government happy. And if you don't keep the U.S. Government happy, of course, your business is going to suffer," he said.
LL.M. students had the opportunity to engage in sit-down meetings with executives at Bank of America and multinational law firm King & Spalding. The course included a visit to the New York Supreme Court, where the class sat in on a hearing.
"We got to witness a court procedure for a breach of contract between Deutsche Bank and a bank in Venezuela, so we got a taste of how the legal system operates here," said student Rawad Hammoud. "It's very different from Lebanon, and knowing the compliance laws will be useful in many aspects of my work."
The course also covered topics such as anti-money laundering, anti-corruption, U.S. export controls and boycott laws, the Federal Corrupt Practices Act, the U.K. Anti-Bribery Act, FATCA, OFAC and sanctions compliance.