Byblos wall beautified by Architecture and Design students
A colorful mural now adorns a long wall in Byblos where greyness and boredom once reigned.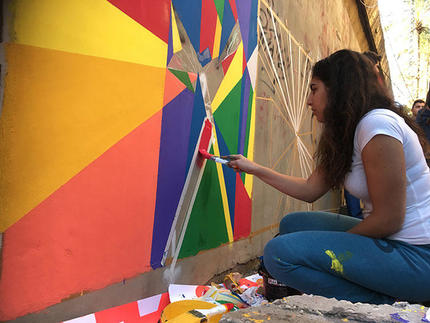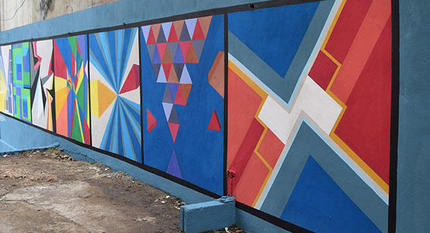 The wall of a bridge in Byblos underwent a creative and colorful makeover recently when students, faculty, staff and alumni from the School of Architecture and Design came together to brighten the lackluster facade.
Students of the Foundation years of studies course worked under the supervision of LAU faculty Melissa Plourde Khoury and Ruth Maalouf as well as artists from NGO Paint Up, more commonly known by their nom de guerre Dihzahyners, to bring color and life to the urban landscape of Byblos.
Seven paintings were selected from a total of 64 pitched, individually, by students of the Foundation program. "All the students however participated in the execution of the mural," explains Khoury, associate chair of the Department of Art and Design, who initiated the project and who also picked up a brush during the three-day process.
"I proposed the idea to Silia [Abou Arbid, director of the Foundation program] and contacted LAU alumna Lana Chukri of the Dihzahyners, and Ayoub Bark, vice president at the Byblos municipality, and everyone was super enthusiastic from the very start," recalls Khoury, delighted at the cooperation and support the project received.
The initiative was an extension of the strong partnership the university and municipality forged years ago in the interest of serving the local community and embedding community service within LAU's curricula and student experiences.
"We wanted to give the students an opportunity to give back to the community in which they live and learn, and to show that it is possible to give life and expression to neglected urban spaces in the local landscape through innovation, dedication, partnership and paint," Khoury enthuses.
It stood to reason that the ideal candidate for supervising the process would be none other than Dihzahyners which was established by a group of LAU artists and graduates in 2012. It has since grown from a community-based initiative, best known for its colorful geometric designs on staircases across Beirut, to an organized registered non-profit organization dedicated to embellishing spaces country-wide.
Creative campaigns of this kind are inspired by a review of the Foundation program which seeks to place students in real-world settings where they can implement what they have learned in the classroom. For this reason, Khoury would like to see this activity take place every year. "One wall at a time, our students can make a difference within communities in Lebanon. Some of the most fundamental elements of design—form, color, line and space―when set within even the most mundane spaces, can uplift and alter our everyday experiences."