Calling for a Culture of Giving
The Development office's first Phonaton brings 800 alumni closer to their alma mater with pledges of more than $20,000.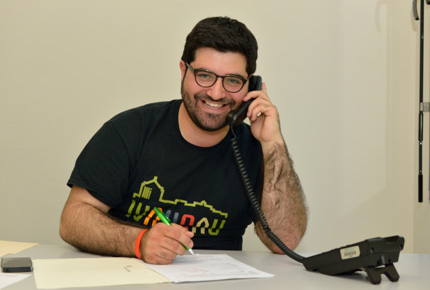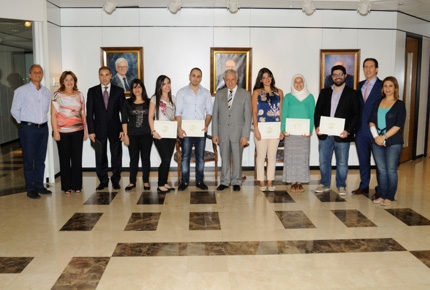 "I felt a little apprehensive for the first five calls," discloses Nadia Itani, one of the student callers on LAU's first Phonathon campaign conducted during the spring semester, "We didn't know what kind of response to expect."
Phoning 800 alumni worldwide might have initially seemed daunting, but four weeks later and after having contacted hundreds of graduates, the team managed to secure pledges of more than USD20,000, out of which USD10,000 have already been received.
Between April and May, the Development Office launched a Phonathon to give alumni the chance to give back to LAU and play an important role in the university's future. "This initiative comes in line with the Development Office's strategy to widen its fundraising activities and hence diversify the sources of its revenues," says Nassib Nasr, assistant vice president for development.
Ghandi Fala, associate director of development, explains that the program was launched to help establish a culture of giving among members of the LAU community, especially alumni. To that end, six students were tasked with contacting them to update their details, keep them abreast of the university's news and inform them how they could enable more students to benefit from the LAU experience. "It was really interesting to find out what made LAU special to the alumni. In less than two minutes of talking, we felt we had something in common, a bond that attaches us all to the university," explains Itani, who studies Interior Architecture and is member of LAU's MUN Chapter.
As part of LAU's larger fundraising campaign Fulfilling the Promise: LAU Campaign for Academic Excellence, the Phonathon specifically focused on raising money towards student support. Financial aid for students represents a substantial and growing area in the 5-year fundraising campaign, for which LAU continues to rely on its friends and alumni. For donor Camille Barkho, a '92 Computer Science graduate whose own LAU education was enabled through a scholarship, "It's a noble idea to make others benefit the same way I did - now that I'm in a position to give."
More than raising important funds the initiative helped strengthen vital links between the university, its alumni and its current student body. "The alumni were happy to hear LAU's news and I loved hearing their stories," exclaims Hrag Avedanian, a Political Science and International Affairs senior and student leader in the Outreach and Civic Engagement Unit. "To see graduates from as far back as the 1950s still having the same level of passion for LAU reaffirmed my commitment to the university. It showed me that LAU is always loyal to its values," he added. The chance to talk to graduates from a range of backgrounds also offered useful career advice about the kinds of employment opportunities available after graduation.
LAU's first Phonathon achieved a 20% pledge rate, bringing it one step closer to not only its financial targets, but also to heightening levels of participation. Eager to build on the success of this year's campaign, the Phonathon will run again next year.