Cancer takes center stage in LAU production
New play written by alumna Abir Hamdar and directed by Lina Abyad breaks taboo in favor of candor, dialogue and understanding.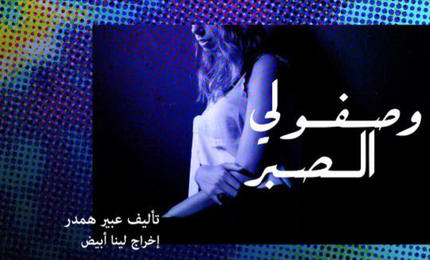 Associate Professor and theatre director Lina Abyad is collaborating with more than a dozen LAU alumni, faculty and students in the production of an off-campus play entitled Wasafuli al-Sabr ―interpreted in English as I am Waiting for You―which will be staged at Al Madina Theatre for eight nights from Friday.
"I found it a most interesting subject and a brilliant play," says Abyad of the script written by her former student Abir Hamdar, herself now an associate professor at the School of Modern Languages and Culture at Durham University. "She was a brilliant student and is a challenging writer, tackling taboo subjects head on," adds Abyad, referring to the play's central theme of cancer, a subject that she says continues to be taboo in the Arab world.
In preparing to write the play, Hamdar interviewed several women who had been diagnosed with cancer. "My work specifically focuses on cultural readings of illness and disability in the Arab world," explains the LAU graduate, whose first book was about female physical disability in Arabic literature. "I thought it important to now speak with patients themselves and study their narratives," she adds, explaining the motivation behind the 60 interviews she conducted over the past year with women who had experienced cancer.
At least half of those interviews were used to develop the script of Wasafuli al-Sabr, Hamdar's second staged play. "I have written and published other plays, but we publish in English and it was important for me that this be presented in Arabic and that it instigate a dialogue between the humanities and medical fields that could ultimately benefit patients."
The play is set in a hospital waiting room, where eight women with cancer sit, wait and talk. A man whose wife has cancer is also present. The discussions reflect the different ways in which people deal with the disease, and highlight the importance of dialogue and support for those fighting it.
"Cancer patients often experience great solitude," says Abyad. "Firstly because stigma and taboo prevent them from speaking openly about it, and secondly because families are not as unified and present as they used to be."
The director and writer have already spoken with doctors at various medical centers in Lebanon in a bid to have the performance staged for cancer patients, their families and their healthcare providers within hospital grounds. "They were very enthusiastic," says Abyad, acknowledging that it may take some time to realize their non-traditional approach.
The way in which the production is staged is also unique and, says LAU alumna and cast member Dima Alansari, challenging. The performance is to be staged in the Nuha al-Radi hall of the theatre, named after the Iraqi artist and diarist who lost her battle with cancer in 2004. "It was a very intentional symbolic choice of location and one that breaks with convention, just as the play itself does," says Alansari, who has enjoyed the challenge. "Lina is such a courageous and daring director, and so confident about breaking with traditional methods that it has been an exciting experience."
Wasafuli al-Sabr will open at Al Madina Theatre, Hamra on Friday 21 July. For full performance times and updates visit the play's facebook page.

Communication Arts students at LAU express their pride in the department's mission to #ReinventCommunication
Watch full video: http://comm.lau.edu.lb