Career exploration week connects students with their future
Revamped fair with interactive career-focused activities and one-on-one discussions with expert panelists marked by high student attendance.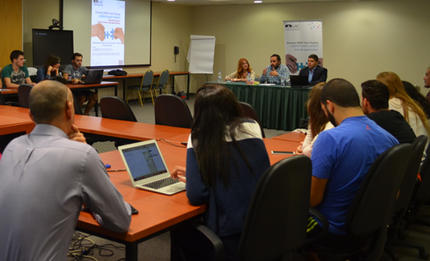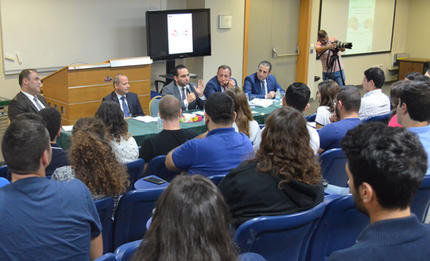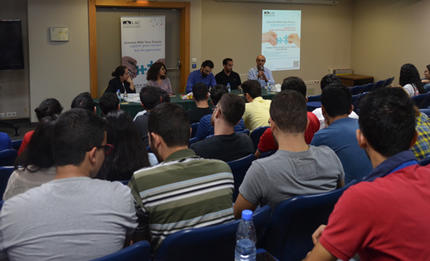 The LAU Byblos campus was a hive of activity during the "Connect with Your Future: Explore Your Career" week, which took place from October 23 to 27. Rich and varied activities were organized, allowing students to interact with professional leaders and experts from various sectors and discover current labor market trends and career paths for their specific majors.
"We revamped the idea of the career fair into a group of interactive career-focused activities tailor-made for students," said Career Guidance Lead Officer Hassan Baalbaki.
The wide-ranging fair included booths for CV editing and mock job interviews, workshops on CV writing, LinkedIn, job search strategies, and presentations by the International Services Office on international internships and volunteering opportunities. Recruitment presentations by companies such as Deloitte & Touche and Maximus Hotel went as far as offering jobs to current students who submitted their CVs on the spot. Moreover, eight panel discussions by professionals in various fields were held in close coordination with LAU's different schools.
The panels incorporated short presentations by each speaker on his/her experience, followed by a Q&A session and one-on-one discussions, during which students asked for advice and recommendations for their next steps. "The very important part of the panels was the mingling that took place at the end," said Baalbaki. "The attendance was beyond expectations, and we got a lot of positive feedback from panelists, students, and faculty."
The panels tackled majors in Computer & Electrical Engineering, Political Science & International Affairs, Civil Engineering, Biology, Nutrition & Dietetics Program, Business, and Mechanical, Industrial, & Petroleum Engineering. Other majors are to be addressed later this semester.
With patent enthusiasm, nutrition panelists detailed possible career paths in the field. "Out of our varied experiences in different fields of nutrition, such as community, hospital, and clinical nutrition, we can guide the students to their specific interests," said LAU Alumna Jihane Kastoun (B.S. '11), clinical dietitian and branch manager at So7i W Sari3 Diet Clinics by Monique Bassila Zaarour.
She added that LAU students have a competitive advantage because of LAU's commitment to help them every step the way. "If I weren't an LAU graduate, I wouldn't have been accepted to UN agencies and my current job at So7i W Sari3," she said.
Her colleague and LAU alumna Yara Tarabay (B.S. '14) agreed, praising the tremendous efforts of LAU professors to assist their students. "The professors are very helpful, and always keep students up to date with the job market and postgraduate study opportunities. They are your backup wherever you go in life," said Tarabay, who works as a refugee status determination associate at UNHCR Lebanon.
While recognizing the importance of the GPA, especially when applying for a master's degree, the panelists insisted that confidence and empathy for the patient were paramount. They also highlighted the need to have excellent interpersonal skills, especially in the field of clinical nutrition.
Reflecting the same insights, Mechanical, Industrial, & Petroleum Engineering panelists encouraged students to become involved in internships and volunteering. "We brought them to realize that going out there and doing something special for themselves and the country gives them more confidence and insight about the opportunities available," said Sylvain Seif, senior technical and R&D expert for INDEVCO Group.
He remarked that the panel helped them determine whether they wanted to pursue a master's degree or start working right away. "The advantage is that before they graduate, the students have a clearer idea of where they want to go, what the opportunities are, and where to look for these opportunities," added Seif.
Students, who had arrived feeling worried but left with confidence, commended the initiative and asked for more panels and career activities to be held. "This is different than just sending an email to an HR Department," said Mechanical Engineering Senior Nader Kabbara. "The panel was very interactive and allowed us to get the opinions of professionals."