Celebrated Iranian designer nurtures print design talent
Iranian graphic designer Homa Delvaray spent four days at LAU, presenting her work and guiding print-focused graphic design students through the production of personalized posters.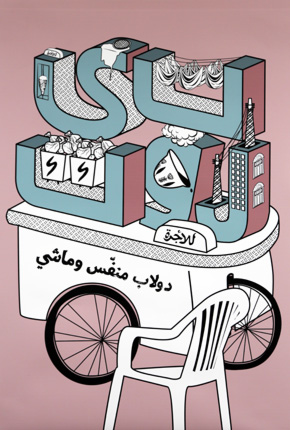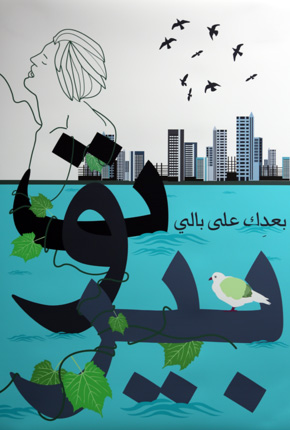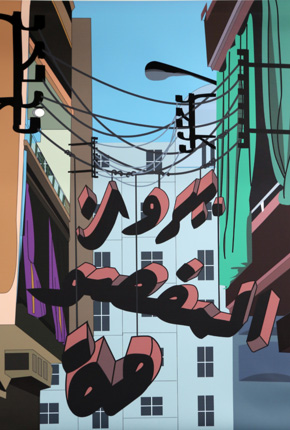 Homa Delvaray presented her work at LAU to a packed audience of design students and visiting faculty from other universities. "She's a celebrity," exclaimed faculty member Lara Balaa, when asked why this lecture had attracted such a large audience.
A packed auditorium was treated to a display of Delvaray's work — mostly posters — and an introduction to her design process. "Tehran is a bi-polar city," said Delvaray of the city in which she lives, works and draws her inspiration. "My work too is a fusion. It is maximalist, oriental and ambiguous, and represents a conversation I am having with the contemporary world."
With the majority of her clients coming from the creative sector, Delvaray is constantly immersed in culture and believes that all designers must draw inspiration from books, films and buildings. "Graphic designers must be multi-dimensional and expose themselves to a variety of ideas and social contexts," she explained.
The posters she demonstrated were as varied as their contexts, but all had an unmistakably eastern flavor. Asked by Design department Chair Yasmine Taan whether she felt an obligation to maintain an oriental feeling in her designs because of clients' expectations, Delvaray replied that she did not but that orientalism was nevertheless always a strong element of her work.
Students from the audience asked why some posters were less complex than others, why the artist had progressed to using 3D type and how long it took to design a poster. "Building the idea takes up the most time," answered Delvaray, adding that this often required studying the history, art and social context of relevant periods. "The research becomes a springboard for creative ideas. The whole process can take up to two weeks of full-time work."
Among the posters she presented was one marking the 250th anniversary of the Hermitage Museum. For this poster, Delvaray drew the mythical figures that decorate the actual building and draped them over lettering. Other posters were politically engaging, including one she produced for an exhibition in Berlin. "I used a patchwork of Iranian motifs on letters that were clearly damaged to express that behind the colorful mask, there is suffering."
Over the next three days Delvaray guided senior students in graphic design through the process of developing their own posters. Groups of three chose short phrases that reflected their view of Beirut and drew inspiration from photographs of the city to develop an illustrated typographic image.
"Our group chose the phrase 'Beirut, a White Lie' to reflect how the city is beautiful on the outside but often hiding problems on the inside," says Jennifer Haddad, a senior student who attended the workshop. "It is so important to learn from and share with visiting designers to expand our perspective culturally."
LAU's design department hosts four lectures and workshops by visiting designers each year. Details of each are posted on the homepage of the School of Architecture and Design.