The Center for Lebanese Heritage turns 10
LAU's Center for Lebanese Heritage commemorates 10 years of preserving cultural memory.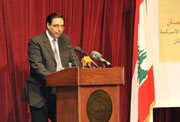 Dr. Hassan Diab addresses the crowd at Irwin Hall, LAU Beirut, commending the center for its important cultural contributions over the years.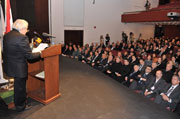 Director Henri Zoghaib relives CLH's first 10 years with the audience.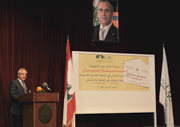 Dr. Jabbra speaks of the shared passion between LAU and CLH in preserving Lebanon's heritage.
Click on any photo above to view larger versions of these images.
Since its establishment in 2002, LAU's Center for Lebanese Heritage has been at the forefront of a movement to locate, restore and preserve material related to Lebanese heritage.
"Ten years ago, the goals and ambitions of this center were shyly blooming, and at the time we didn't know how far it would go," said CLH director and renowned Lebanese poet and novelist, Henri Zoghaib, at the center's 10th anniversary ceremony at LAU Beirut on January 31.
"Today, the center is carrying on with its projects with the help of the university's administrative, logistical, technical and journalistic services, which have facilitated the orchestration of its activities," added Zoghaib.
In addition to collecting heritage-related material, CLH organizes debates and conferences about historical books and periodicals, as well as the art and work of Lebanese cultural icons.
The Beirut campus event, organized under the patronage of Lebanese President Michel Sleiman, was attended by various prominent political and religious figures, including Minister of Education and Higher Education Dr. Hassan Diab, representing Sleiman, Prime Minister Najib Mikati, and Speaker of the Parliament Nabih Berri; Ambassador Fouad Turk; and Father Gabriel Tabet, representing Patriarch Mar Bechara Boutros al-Rahi.
Praising the center's admirable achievements, LAU President Dr. Joseph G. Jabbra emphasized the converging and synergetic roles of both CLH and LAU in preserving Lebanon's heritage.
"This is the Lebanese American University's mission: to embrace those who seek higher education, while providing a platform for knowledge and learning," said Jabbra.
CLH currently runs on LAU funding as well as private donations from various sources, and it houses a collection of out-of-print books and publications donated by philanthropists concerned with safeguarding the cultural legacy of their assets.
For the past 10 years, by virtue of the university's unceasing support and contributions, the center has organized 71 conferences and symposiums that hosted 154 speakers from 14 countries, including Egypt, Morocco, Italy and the United States.
Drawing attention to the importance of upholding Lebanese history and heritage, Ambassador Turk said that "what matters the most is realizing the significance of our ancestors' legacy while adding a new cultural dimension to it that our successors can pride themselves on."
Closing the ceremony, Minister Diab commended the center for effectively fulfilling its mission, stressing the importance of the country's rich cultural history in shaping its current singularity.
"Over the years, the Center for Lebanese Heritage has sought to highlight Lebanon's cultural, literary and artistic identity on various levels," said Diab, adding that Lebanon's rich cultural history helps to forge both its present and future.