Celebrating the Giants of Medicine
LAU's Gilbert and Rose-Marie Chagoury School of Medicine recognizes lifetime achievement of clinicians along with the accreditation of the Clinical Simulation Center.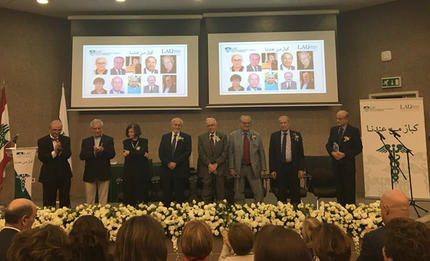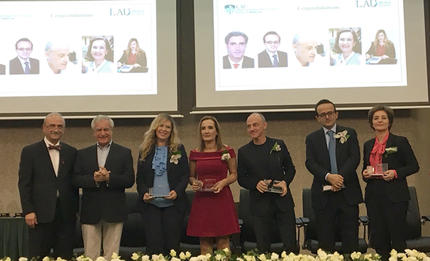 Generations of physicians filled the auditorium at the Gilbert and Rose-Marie Chagoury School of Medicine, Byblos campus, last month for a ceremony that celebrated their outstanding work as clinicians, teachers and innovators.
"We are here to honor and recognize the physicians who have contributed tremendously to the various fields of medicine over the last half century. They continue to stand tall among us," said Dean of the School of Medicine Dr. Michel Mawad of those receiving lifetime achievement awards. "These giants all have a common background, having started their careers at Rizk Hospital. They are superior in their competencies and have demonstrated exceptional diligence and perseverance."
A total of 10 physicians and clinicians were honored, among whom Dr. Zahi Hakim, a pioneer in radiology in Lebanon, and Nephrologist at LAU Medical Center-Rizk Hospital Dr. Antoine Stephan, who has dedicated his career to advancing organ and tissue donation and transplantation in the country.
Professor of General Surgery Dr. Antoine Ghossain received a poignant tribute from Mawad, whom he had once taught and trained. "Teaching new physicians holds a higher level of responsibility than any other in my opinion, and it is trickier to accomplish," Mawad had observed earlier during the ceremony. One of the most highly decorated surgeons, Ghossain has performed no less than 60,000 surgeries since he started practicing in 1950, and has headed the departments of surgery and emergency at Hôtel Dieu Hospital. He is one of the first kidney donors in the country.
Widely published in scientific peer-reviewed journals, President and General Manager of Dr. Rizk Clinic for 48 years, up until 2009, Dr. Assaad Rizk has presented more than 15 lectures in international congresses. He is the recipient of several foreign decorations, and holds an Honorary Professorship of Urology at Université Saint Joseph. "It is clear that the great progress made in all fields of medicine through two generations has served the patients of the current generation well," he said. However, he warned that although physicians today have the edge in technology, they risked losing that "primordial quality in medical practice" — the "human touch," with which their predecessors were endowed.
Other "giants" included Dr. Fouad Atik, Dr. Emile Brihi, Dr. Joe Hatem, Dr. Raymond Rizk, Dr. Elie Karame and Dr. Zeina Saba.
Mawad reiterated the mission of the School of Medicine to provide "competent, conscientious and ethical doctors for the community," and the important role clinical care plays in shaping the doctors of the future. He referred to the assembled clinicians as "the epitome of commitment in teaching and providing care."
These sentiments were echoed by leader in the field of cardiology, Dr. Georges Ghanem, who was appointed clinical professor of Internal Medicine. Notably, Ghanem is the first cardiologist in Lebanon to perform a Mitra Clip procedure without open heart surgery.
Commenting on the synergy between LAU and LAU Medical Center-Rizk Hospital that instills a pioneering or innovative spirit in students, Ghanem said: "The university provides students with the ability to master science and technique, but the hospital allows for a supportive real-world learning environment, and that's where physicians will flourish."
Dr. Zeina Tannous' academic achievements earned her a professorship in dermatology with permanent tenure. Tannous, whose research has resulted in three patents, completed her dermatology residency at Harvard Medical School, and has co-chaired industry-leading symposia and conferences in Laser Surgery. She returned to Lebanon to impart the knowledge she had gained abroad, and to empower the new generation of healthcare providers by establishing a small-scale Harvard-style institution at LAU.
The ceremony also honored Dr. Vanda Abi Raad and her team at the Clinical Simulation Center (LAU-CSC) that was recently accredited by the Royal College of Physicians and Surgeons of Canada. Appointed as Assistant Dean for Continuing Medical Education, Abi Raad highlighted the opportunities provided by LAU-CSC. "Education doesn't stop at the level of resident," she said. "The Simulation Center supports and encourages ongoing training of students and faculty from the schools of medicine, nursing, pharmacy as well as the hospital's clinicians."
The ceremony was preceded by a retreat — the first of its kind — that brought together core university teaching faculty as well as full-time physicians to create a single unified vision for patient care.