Celestial style
LAU alum gains a following for her newly launched ready-to-wear line.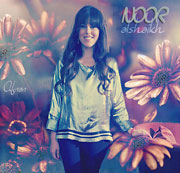 Bahraini Television anchor Noor Al Shaikh wearing a Celeste vela top in sliver silk.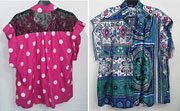 Celeste's vivid colors impart vigor and zeal to the designs.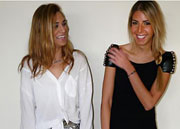 Atwi employs a futuristic approach in her unique designs.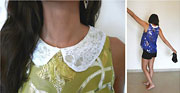 The simple inclusion of a lace collar provides Celeste with a vintage touch, while preserving a modern feel.
Click on any photo above to view all four images.
A dictionary would have you believe that celeste is just a French word meaning "heavenly." But for the young and sharp-eyed in the local fashion scene, Celeste evokes a piece of heaven on earth, a striking and eclectic ready-to-wear clothing line established by LAU graduate Celine Atwi ('07).
Atwi, who earned her bachelor's degree in graphic design, launched Celeste last year. The line offers a wide range of trendy tops, party dresses, daring accessories and other stylish pieces.
A fashion enthusiast from her student days, Atwi set out to bring a graphic designer's eye to the fashion designer's art, and by 2011 had managed to do with the launch of Celeste.
It is still nearly a one-woman operation, with Atwi herself doing all pattern-making, art direction, garment assortment for photo-shoots, and branding for the label.
"What makes my designs unique is that you can't define my style," says Atwi. "I would call myself daring and edgy, but I design according to my mood, sometimes using crazy colors and sometimes minimalistic classic pieces."
Atwi makes imagining fashion-forward concepts seem simple. The real challenge, she says, lies in execution, especially given the lack of variety of textiles and tools in Lebanon.
"Sometimes, I don't find the fabric I need, and it's very costly to ship it from abroad in small quantities," she explains.
Since the launching of her line, Atwi's success has relied heavily on the Internet. On her own website and through accounts on Facebook and other social media sites, she displays her designs for people to view and order, giving them the chance to alter items according to their taste. Celeste's Facebook page also offers tips on how to best wear the pieces.

Atwi also displays the collections in her own showroom, in addition to various design houses and trendy boutiques around Lebanon, Bahrain, Dubai, Egypt and Belgium.
Indeed, Facebook gave Celeste a great push, admits Atwi.
"It was through Facebook that people knew about Celeste and started ordering pieces," explains Atwi. "It was also through Facebook that different boutiques inside and outside of Lebanon started contacting me, offering to showcase my collections."
The huge success of Celeste came as a surprise for Atwi, who now designs dresses and other pieces upon requests from clients.
"Clients come to me with an idea of what they want, and I make it happen," she says.
Atwi plans on collaborating with a website in London, which will allow her to sell her products online to an even wider clientele.
The Daily Star, with additional reporting by LAU staff.