CEP graduation ceremony honors life-long learners
300 professionals from various communities of practices celebrate a new milestone in their career.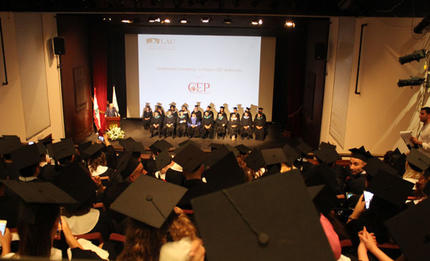 This year's Continuing Education Program (CEP) graduation in Beirut registered a full house: 300 professionals from various communities of practices walked into Irwin Hall last week with heads held high. The certification they obtained is the latest achievement in their career and tangible proof of their commitment to excellency.
"Today, we are honoring those who are making a difference, who have decided to reach new heights, who believe Lebanon can rise from its ashes again," said CEP Director Michel Majdalani in his opening speech.
On the same note, Provost George K. Najjar underlined the necessity to "make sure we are fit and adapt to the future." "The world has changed," he said, "CEP gives a strategic response to a world changing at the speed of thought."
At present, CEP offers certificates, diplomas, professional qualifications, language courses and tailored corporate training. Ten new programs will be made available as of next year, broadening the CEP spectrum to include futuristic disciplines such as furniture design, money and wealth management, and health care business.
Other than in Beirut, professionals willing to continue their education can opt to enroll in courses in Tripoli and Zahle. Beginning next year, the program will also be made available in Sidon, thus extending its reach to the whole of Lebanon.
CEP graduate Jana El Hout landed her dream job thanks to the Human Resources Business Professionals program. "I wanted to distinguish myself from other candidates and I managed to do so thanks to CEP," said El Hout, who now works in the HR department of the International College. "I used to consider the CV only during the recruitment process, but now I see the full picture and how HR policies impact the company."
In order to assist its graduates and its network of employers, the CEP program is working on building a web portal that will help professionals access job openings. Current and past CEP students will be able to insert their skills and qualifications, which will be viewed by companies scouting out profiles suitable to their needs.
Continuing education not only benefits those who want to make a leap forward in their careers, but also jobholders wishing to enhance their performance. CEP graduate Joe Saade enrolled in the business leadership course after having been appointed head of product development at BLC Bank. "I wanted to improve my leadership skills and learn more about how to manage a team," he said. "The course helped me both on the personal and on the professional levels. I am now more able to communicate with my employees and solve any issues they might face, rather than letting it go."