Ceremony marks inauguration of activities for the 2010 LAU MUN conference
Since the program's inception in 2005, participation has surged from 541 students and 76 schools to 1,200 students and 125 schools set to be involved in 2010.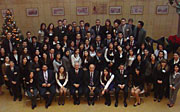 The LAU MUN Secretariat, composed of 82 LAU students, is responsible for training the high schoolers.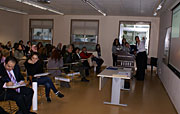 High school principals and advisers attend the information sessions run by LAU student trainers.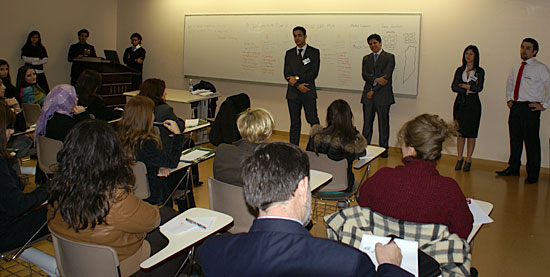 Group picture with Junior Icebreakers: Principals and advisers are required to perform tasks similar to those that their students will be involved in during the 2010 training sessions. George Jallad (center), an LAU graduate.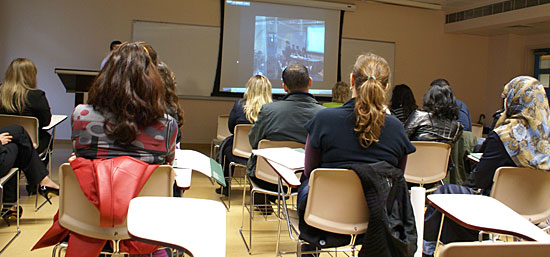 Principals and advisers watch a short DVD about LAU MUN.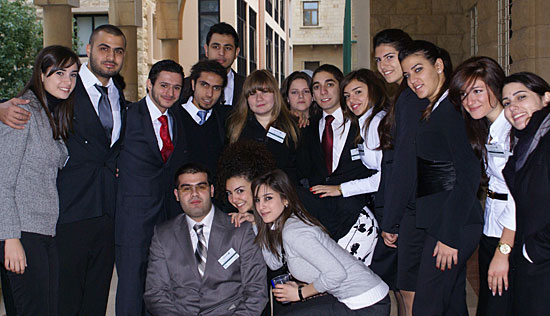 A group of LAU student trainers.
Click on any photo above to view all five images.
For the fifth year in a row, LAU has opened its doors to top high school students from around Lebanon to participate in the university's LAU AL WALID GC-Model United Nations program, with an inauguration ceremony held on December 12 in the Irwin Hall Auditorium of the Beirut campus.
The ceremony marked the beginning of a series of training sessions that will culminate in the Fifth Annual LAU MUN High School Conference in April 2010.
A record number of schools and students will participate in the 2010 program, which has witnessed continuous growth since its inception in 2005. Participation has surged from 541 students and 76 schools in the first year to 1,200 students and 125 schools set to be involved next year.
"We have reached our carrying capacity," said Elie Samia, LAU MUN project leader and Guidance Office director in Byblos, noting that next year a new source of finance and perhaps a bigger venue will be necessary to accommodate the growing interest in the program.
However, Samia is reluctant to move away from LAU, which has been hosting the event since its launch: "Our alma mater is precious for us. It's a labor of love for everyone involved."
At the ceremony, against a backdrop reading "You Don't Have to Win Every Argument: Agree to Disagreements," Dr. Layla Nimah, Counselor for Special Initiatives at LAU, welcomed the students and school representatives who will participate in the program, which this time has "Peace Starts in the Mind" as its motto.
"This is a very needed program for the whole region," she said, noting that LAU MUN is unique in the Middle East.
The program has secured the renewed support of Alwaleed Bin Talal Humanitarian Foundation and a partnership with the United Nations Association of the United States of America.
From January to April 2010, Lebanon's brightest secondary school students will participate in seven training sessions where LAU students will teach them the UN workings and procedures, and develop various diplomacy skills, including negotiation, public-speaking and conflict-resolution techniques. They will also be trained in caucusing and writing UN resolutions.
When the high school students emerge from the sessions, "they have deep understanding of the subject matter which increases their cognition of the political economy of the world," said Elie Samia, LAU MUN project leader and Guidance Office director in Byblos.
Alongside preparing them for UN simulation and the final conference, the sessions aim to impart an ethic of compromise and understanding to participants.
The opening ceremony was followed by some short training and Q&A sessions to familiarize the principals and advisers from participating schools with the program.