Yasmine Nachabe Taan introduces pioneering Arab designers through her books
Yasmine Nachabe Taan's second book for Arab Design Library traces the life and work of Syrian poet, painter, typographer, and designer Abdulkader Arnaout.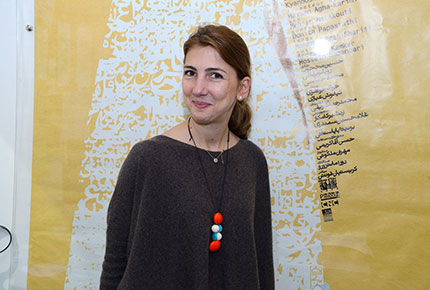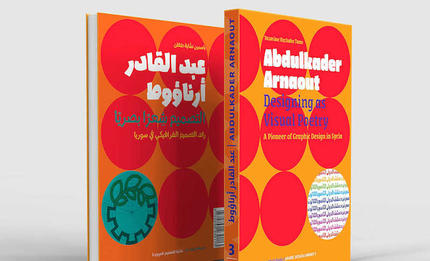 Chair of the Department of Art and Design Yasmine Nachabe Taan celebrated the publication of her latest book with dozens of designers, artists and culture connoisseurs at the Sursock Museum in Beirut last week. Abdulkader Arnaout: Designing as Visual Poetry is Taan's second book for Arab Design Library, a series of monographs about Arab designers published by the Amsterdam-based Khatt Books, part of the Khatt Foundation.
Founding director of Khatt Huda Smitshuijzen AbiFarès was present to introduce Taan, researcher-designer Lina Hakim, artist Dia al-Azzawi, and art critic Waddah Faris, all of whom led a discussion about design in the Arab world. A reception followed, during which both Taan and Hakim—who has written a book about al-Azzawi for the same series—signed copies of their books.
"Just as my first book about [Egyptian designer Hilmi] Al-Tuni has been a useful resource for design students and researchers, so too will this book about Arnaout, who was a great pioneer of graphic design in his native Syria," says Taan, adding that the series of studies into the work of impactful Arab designers is invaluable in both educating and motivating her students at LAU.
The lack of appreciation of design as a discipline, explains Taan, meant that Arnaout had to be recognized first as an artist. "He held many exhibitions of his art. But he also had many clients internationally and created a lot of designs for Syria's ministry of culture, changing the way they imagined themselves and helping to promote his country as a cultural place," says Taan of Arnaout, whose works she pored over during her research. "His family gave me full access to his digitized works and those present in Lebanon, but his studio was in Syria and while it's still intact now, it is at risk," she adds.
Taan also spoke with a number of Syrian artists who now reside in Beirut, many of whom had been students of Arnaout's when he taught at Damascus University. Taan will herself be taking a year out from teaching at LAU for a research sabbatical at McGill University in Montreal, where she will develop her doctoral thesis about Lebanese photographer Marie al Khazen into a manuscript. "I'll also be working on my next book for Khatt about another pioneering Lebanese woman, as well as a third book about Saloua Raouda Choucair," adds Taan, with enthusiasm and not a hint of fatigue.