Chemistry grad formulates recipe for success
Abdul-Rahman Rabaa has his own line of popular hair care products for women.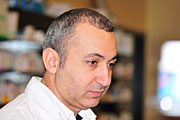 LAU chemistry graduate Abdul-Rahman Rabaa has developed a successful line of hair products for women under the name "Rabel."
Since graduating from LAU with a B.S. in chemistry nearly two decades ago, Abdul-Rahman Rabaa, 41, has been on a cosmetic mission to develop concentrated hair care products for women targeting particular conditions.
Having introduced his first lotion in 1995 to stimulate hair growth, Rabaa today has his own line of about 20 hair care products under the name "Rabel," which includes specialized shampoos, a conditioner and gels.
"Lebanese hair is too dry, too thick, and is totally damaged due to chemicals," Rabaa says. "So I provide the solution."
In 2008, Rabaa opened up one of Lebanon's largest pharmacies, also called "Rabel," in Hazmieh's Taala Square, which is currently being retrofitted to accommodate a new lab to mix his products.
The products are sold at hair salons across Lebanon with plans to export to countries throughout the Arab world.
Rabaa was first inspired by the thought of producing cosmetics at a young age as he observed his father working with herbal products. During his undergraduate years at LAU (then called Beirut University College) in the late-1980s, he began to formulate a plan with the support of his professors.
"He's a true a chemist," says Rabaa's former teacher Dr. Samira Korfali, LAU associate professor of chemistry and chair of the Department of Natural Sciences at LAU Beirut. "He chose to study chemistry because he had a dream to make a difference, and he fulfilled it," she adds.
After graduating from LAU in 1991, Rabaa quickly got to work in the lab, mixing chemicals that he knew to target certain conditions, while poring over chemistry studies and reports in order to develop a more thorough understanding of the work.
"It took years of experimenting in the lab and going through a process of trial and error before the first product was ready to be sold," he says. "Many professors used to help me by encouraging me to work more seriously and analyze."
Until now, Rabaa's products have been designed exclusively for hair, although he says new facial creams are in the works.
The facial products being developed are to treat conditions such as dark spots, acne-like scars and peeling.
"I will never stop," Rabaa says. "Chemistry is like an addiction — you can create anything with chemistry, and I create a product to solve a problem."