Civil engineering students learn real-life techniques during construction site tour
Around 50 members of LAU's Civil Engineering Club survey the construction site of the future medical school at the Byblos campus.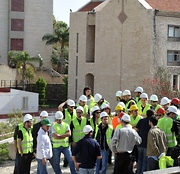 LAU's Civil Engineering Club members tour the construction site of the new School of Medicine in Byblos.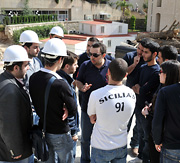 Club adviser Dr. John Khoury preps his students about safety during the tour.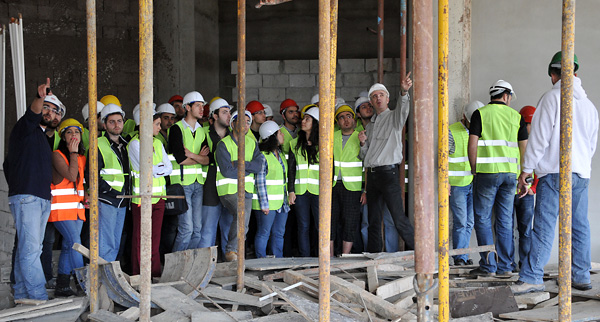 On-site engineers explain building techniques to the civil engineering students.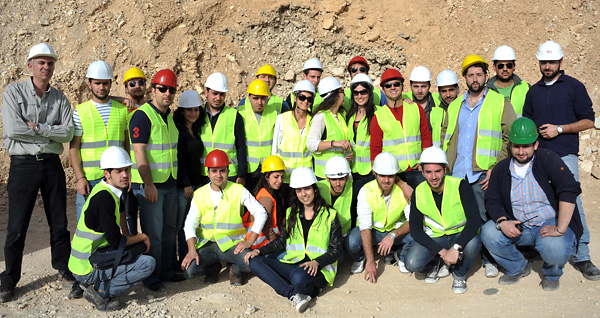 The students pose with their hard hats and reflective vests after the tour.
Click on any photo above to view all four images.
A group of civil engineering students put theories learned in the classroom into practice on a tour of the construction site of LAU's School of Medicine, on the Byblos campus, on April 14.
Around 50 members of LAU's Civil Engineering Club participated in the field trip.
Students were provided with hard hats and florescent vests to ensure personal safety as they toured through the vast, 15,500-square-meter construction site.
Assisted by four on-site engineers, the construction project manager, and Dr. John Khoury, assistant professor in LAU's School of Engineering and the club's faculty supervisor, the students closely examined the structural details of the unfinished buildings.
The engineers-in-training were able to see first-hand various concepts learned in the classroom in physical form and ask experts questions about field construction techniques.
"It was a beneficial trip in which book theories were visualized on site," says club member Johnny Kosseifi, a civil engineering major at LAU Byblos.
"Some of the hands-on knowledge the students gathered included learning how scaffolding is done … what each element is needed for, why it is put together in a certain way, and possible alternatives to the current design," says Khoury.
"All got a chance to learn something new that is not possible in a class environment," he adds.
Khoury says that the club, which claims about 300 student members, aims to take regular field trips, which will vary depending on the students' subject of interest at the time.
"Due to Lebanese culture and the recent construction boom in the country, students usually think first of construction sites to learn about the field," he explains. "However, other site visits will also be organized — examples of which include trips to consulting offices to learn about the daily work environment of an engineer."
Tours of highways, water dams, and treatment plants, for example, are also in the works in order to cover all kinds of civil engineering topics, says Khoury.