Class reunions cater to alumni career, educational and networking needs
This year's annual reunions and homecoming events attracted over 800 LAU graduates, family and friends from around the region.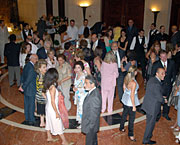 The annual LAU alumni dinner at the Metropolitan Hotel in Beirut attracted over 400 people.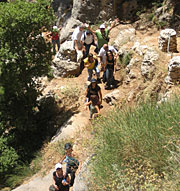 Alumni hike through the Qadisha Valley during the day trip.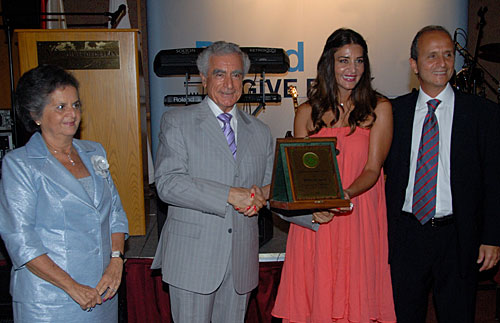 Honey Al Sayed receives the Alumni Achievement Award.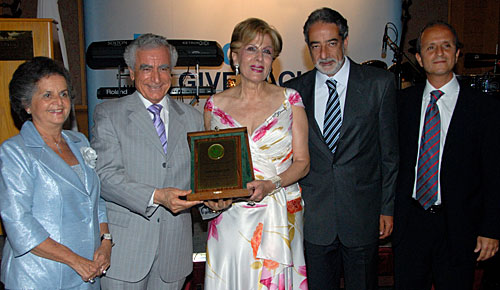 Hala Jabr receives the Alumni Recognition Award.


The annual President's Forum gave alumni a chance to mingle.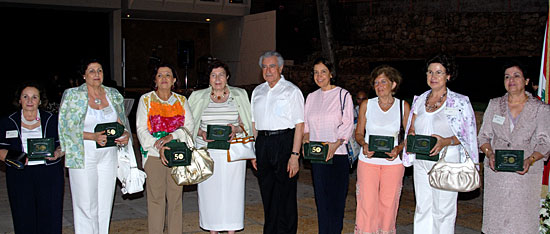 LAU President Joseph Jabbra with representatives of the class of 1959 that celebrated their 50th graduation anniversary on the Beirut campus.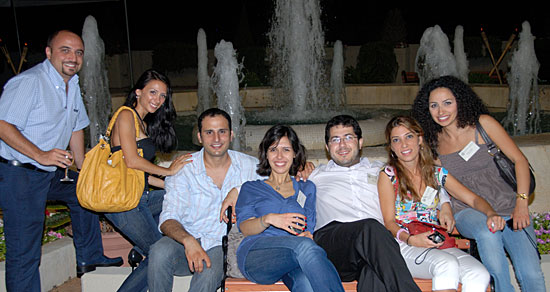 A group of alumni at the Byblos-campus reunion.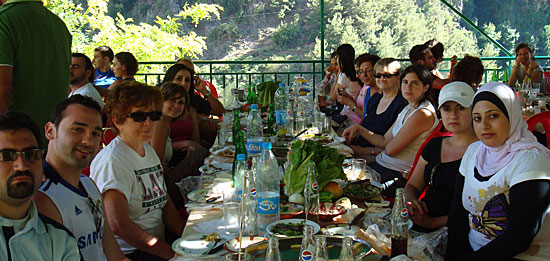 A group of alumni has lunch during the day trip.

Click on any photo above to view all nine images
Catering to evolving alumni needs such as networking, knowledge updates and career development, this year's annual reunions and homecoming events attracted over 800 LAU graduates, family members and friends from around the region from July 9–12.

The university's Alumni Relations Office invited the classes of 2004, 1999, 1994, 1989, 1984, 1979, 1974, 1969, 1964, and 1959 for their 5th to 50th graduation anniversaries, at evening events and cocktail receptions held on the Byblos campus on July 9 and the Beirut campus on July 10.

While the reunion represents an opportunity "to bring alumni back to campus," explains Director of Alumni Relations Abdallah Al Khal, he says to simply organize a social event isn't enough as alumni want these gatherings to develop their career opportunities and knowledge.

"The most important request from our alumni is jobs. Even if you have a job, you are always looking for a better one — it's not only those that are unemployed. Job opportunities are always in demand," Al Khal says. "This is something we didn't do before, and it has become very important for alumni to take care of other alumni, in terms of finding jobs," he adds.

Al Khal says the second important request from alumni is education. "They love that," he explains. They send him email requests such as, "We graduated, we are out of touch with education. So can you organize lectures for us to keep us updated on what's going on in the world?"

The president of the Damascus Alumni Chapter Adnan Tarabishi — who completed his degree in business (accounting) in 1999 and his M.B.A. in 2008 — says he came from Syria just to attend the events, and does so yearly.

Tarabishi says doing so is very important to him because everything he has done has been shaped by his experience at LAU. "It's not only education," he says, "It's the lifestyle we took, the education we took; it's how we [learned to] solve our problems."

But alumni also come back for the memories. Dr. May Alaoraydh Al Shirawi from the class of 1959 says she has been to other reunions, including ones in Bahrain where she currently lives and teaches at Gulf University. But for her, returning to the Beirut campus takes her back to her youth. "I see the faces I love, my classmates, my colleagues. I see the campus, the stairs, the buildings, the system — it's all still here," she says.

Ismail Zaidan graduated from LAU's School of Pharmacy in 2004 and now works in Miami. He planned his trip to Lebanon to be able to attend the alumni events, which he says also remind him of his years at LAU. "I'm glad to see LAU has kept the promise to take education in Lebanon to the next level, something we were aware of when we studied here and we continue to see after we graduated," he says.


Making heads turn

A full-day "All-Class Homecoming" was held on July 11, kickstarting with a brunch on the Beirut campus. In the evening, an alumni dinner was held at the Metropolitan Hotel, at which stand-up comedian Nemer Abou Nassar, and musical talents Cynthia Baroud and her band all performed.

At the end of the dinner, two prominent LAU alumni were recognized with special awards. Alumni around the world were invited early this year to nominate fellow alumni who have noteworthy achievements in their fields. The Alumni Relations Office had a committee that selected candidates.

The Recognition Award was presented to Hala Jabr for her outstanding contribution to the university, as well as her service as the president of the Red Cross blood bank in Lebanon. "Over the years we always have families of students, staff, etc. getting sick, getting into accidents, and she has always been there," says Al Khal. "She has saved the lives of many people. She is also responsible for establishing 11 blood centers in Lebanon."

The Achievement Award was granted to the popular radio broadcaster in Syria Honey Al Sayyed, for her significant accomplishments in her professional life.

Al Khal explains: "She majored in liberal studies and communications media at LAU. She's a radio broadcaster portrayed as the 'Oprah of Syria,' hosting the radio show Good Morning Syria. She was on the cover of Los Angeles Times as the [host of the] nation's hottest radio show."

Receiving her award, Jabr said: "LAU taught us how to blend in a community with various cultures; it helped us develop freedom of speech with a sense of humor of course, and showed us the true concept of democracy."

After a few days of celebrating and networking, the last day of the alumni events was spent relaxing and exploring with old and new friends during the all-class day trip to the Qadisha Valley in northern Lebanon.

Al Khal explains alumni use these occasions as resources and to help each other. LAU is giving alumni "an opportunity to come and meet each other and exchange business cards. As soon as we can make them see it from this perspective, they will start to come even more. It won't be just another dinner," he says.