Click here for the future of learning
New clicker technology in the Natural Sciences Department is injecting energy into the classroom and changing the way students learn.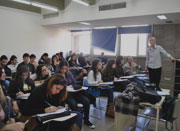 Wex looks on as her chemistry students work on a multiple-choice problem.

After the polls close, Wex goes over the problem on the whiteboard.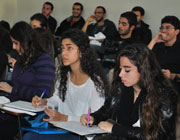 A student gets ready to send in her answer using the clicker.
Click on a photo to view a larger version.
"Get ready to send in your answers — 100 percent of the morning section got this one right," Dr. Brigitte Wex says to her Chemistry 311 class with a smile.
"The reaction of butyl iodide with NaSCH3 will proceed at a faster rate in which solvent?" reads the multiple-choice problem on the projector screen.
Pairs of students begin discussing the problem and scribbling formulas in their notebooks before using hand-held clickers to send in their final answers. A ticker box on the screen tells Wex how many responses have come in. Once the polls close, so to speak, there is some laughter from the results. Only 82 percent have answered this one correctly.
"Really? But this one was easy!" Wex says, feigning disbelief. She and the students then launch into a lively discussion about why the other answers can be ruled out based on organic chemistry concepts learned in previous lectures.
"I get a real-time snapshot of what's going on in class," says Wex, assistant professor of chemistry in the Natural Sciences Department on the Byblos campus. "The system allows us to create an inclusive learning atmosphere in which every student can participate with the click of a button — not just the students who are fastest and most active."
As a result of the clicker system, lectures no longer focus on copying material from the board, she says, and judging from the dynamic energy in her classroom, she's right. "Learning becomes an active event demanding participation and transforming students from passive to active learners," she adds.
There are two sets of 25 clickers, each with a receptor, currently being used by the School of Arts and Sciences on both LAU campuses. "The system is perfect for SAS because it's mobile," says Wex. "You can take it anywhere and it doesn't take longer to set up than a PowerPoint presentation."
Yara Yazbeck, a second-year biology student, says that the clicker system is more practical because it gives students examples of questions. "I really like this. It prepares us better for the exam because we know what kind of material is in store for us."
Fellow second-year biology major Michel Rechdan agrees. "This is great before an exam and the one-hour class goes by fast — more classes should have this system."
And soon, perhaps, more classes will. Wex has led two faculty-training workshops for the Natural Sciences Department and has heard from several faculty members in other departments interested in the new technology.
The School of Medicine is already employing a clicker system that is built into the classrooms. The Natural Sciences Department's pilot clicker project is supported by the Provost's and SAS Dean's Office.
Wex first started using clickers during the summer of last year for the exam preparation period, but starting this semester she plans on using them throughout the term.