Closing the gap between academia and practice
As part of a series of exchange activities with the Université de Montréal, the Department of Architecture and Interior Design holds a symposium on mobility and design.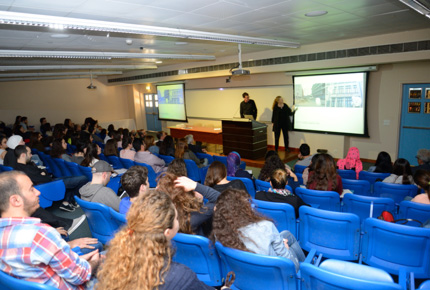 LAU's Department of Architecture and Interior Design joined hands with the Université de Montréal's Faculty of Environmental Design to host an international symposium on mobility and design.
"The mission behind the event is to present in-depth studies based on the observation of academic experiments, focusing on the role of interior design," said Assistant Professor Nada Khoury of the seminar that took place in late March. Experts in the field from Parsons The New School for Design, Académie Libanaise des Beaux-Arts and University of Florence shared their experiences and personal anecdotes about working in the world of design.
Advocating for filling the gap between aspirations and opportunities, LAU interior design professor Dr. David Aouad gave a presentation based on his fifteen years of teaching experience. "Designers and design firms are now experimenting in unchartered territory, transcending many disciplines, by using new techniques and approaches," he said.
However, according to Aouad, the design curriculum, particularly in Lebanon, often does not do enough to address the gaps between the skills taught in academia and those required for practice. "As the world is becoming more globalized, more specialized and more demanding we need to make sure that our graduates are equipped with the necessary skills to succeed in this industry," he added.
A recommendation put forth to remedy this situation was advocacy for legislative and public recognition of the discipline in Lebanon with the establishment of a trade union designed specifically for interior designers. A further proposal was to stress the role of apprenticeships as a fundamental step to bridging the gap between what is taught in the classroom and real-life experience.
"Such issues are very challenging and to help solve them collaboration is key," argued Dr. Giovanni de Paoli of the Université de Montréal.
Considering the fact that interior design is highly connected with decision-making on the part of the client, the question of the ways decisions are made becomes very important. Discussing this particular issue were New York professors Dr. Carol Overby and Dr. Aaron Fry of Parsons New School for Design.
The duo gave a fascinating talk on an original methodology they have developed, dubbed the Visualizing Finance Lab (VFL) to assess the complexities of decision-making by creating "Narrative Visualizations."
Narrative visualizations are illustrations, animations, cartoons and other pictorial media that use cultural, emotional and behavioral cues and metaphors to communicate concepts and processes. "In a design class at Parsons, students created storytelling animations about a couple's financial decisions. The student work was guided and assessed using VFL's infoEmotion Matrix, which has broad applicability for design students and practitioners in describing and understanding the culturally-inflected decision process of clients and designers," Overby explained.
In other words, this methodology helps design students visualize the many complex issues a person may consider—an invaluable tool for an interior designer trying to unpack the decision-making tendencies of his or her client.
For Linda Zridette, a Lebanese-Canadian graduate of Concordia University, attending such an event was a great professional opportunity: "I am in the midst of launching my own interior design consultancy and the advice I got from the professors from Parsons was invaluable," she said.