Coloring the lives of child cancer patients
Toufoula, an NGO with close ties to LAU, expands its mission to improve the lives of child cancer patients by designing dream rooms.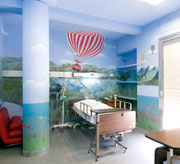 A Toufoula dream room in Hotel-Dieu hospital, designed by interior architect Jean Louis Mainguy.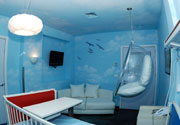 A dream room designed by advertising agency JWT, under the theme of "I Believe I Can Fly."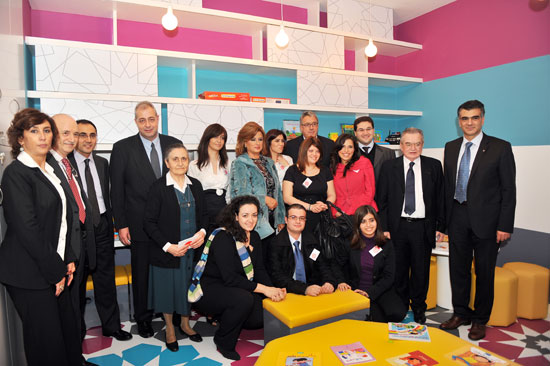 The Toufoula team during the opening of the dream rooms in Hotel-Dieu, in December 2009.

A dream room designed by fashion designer Zuhair Murad.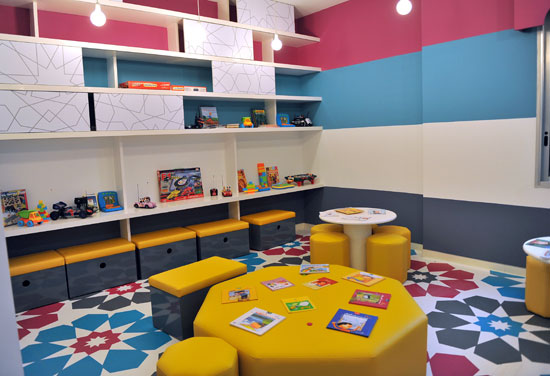 Besides the 18 dream rooms, a playroom was also opened in Hotel-Dieu, thanks to Toufoula.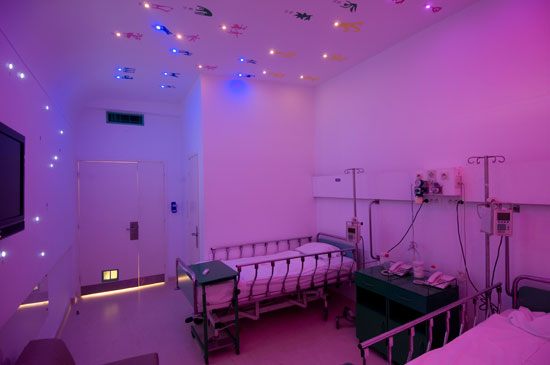 A dream room designed by architect Nadim Karam, in Hotel-Dieu.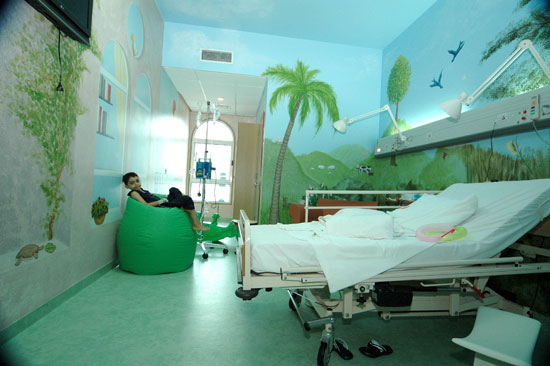 This dream room by architect Simone Kosramelli is designed to make the child feel he is in a garden.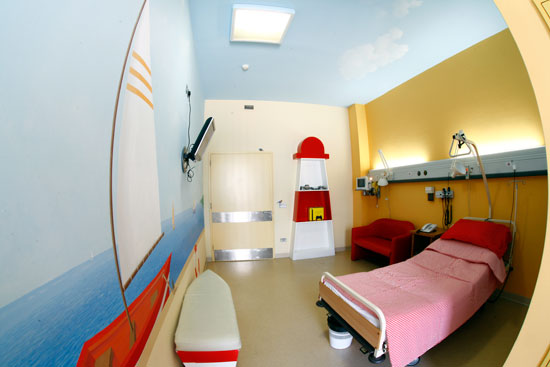 Another dream room under the theme of "Sea, Sand and Sky" designed by artist Gina Succar.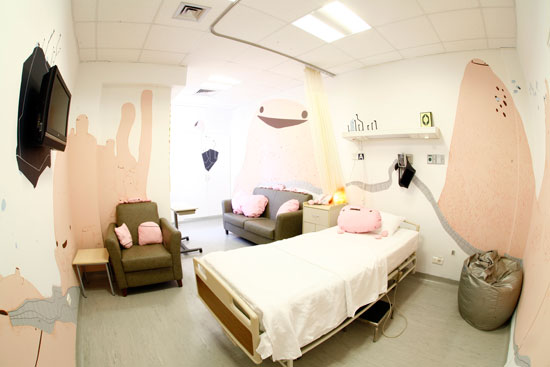 The wall drawings of this dream room were created by illustrator Seif el Hassani.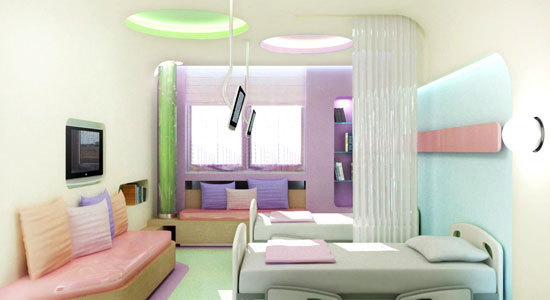 A Toufoula dream room designed by interior architect Galal Mahmoud.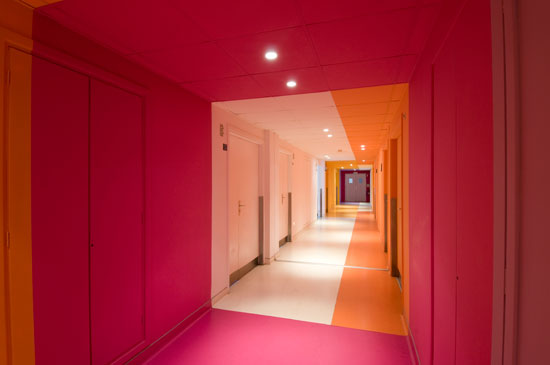 A Hotel-Dieu corridor designed by Polypod Studio.
Click on any photo above to view all 11 images.
To bring some joy and comfort to hundreds of children in the country battling cancer, a handful of LAU students and alumni founded the non-profit group Toufoula five years ago.
Today, having all graduated, the group of former students is taking on the ambitious Dream Floor Project to convert hospital rooms for children with cancer into interactive playgrounds.
"Toufoula's mission is for every child with cancer to be treated in a room on a dream floor," says Tala Sinno, a Toufoula board member and 2004 LAU graduate.
Each dream room is based on a different concept and is decorated with a unique style and vibrant colors developed by about 20 internationally renowned artists and architects.
Perhaps it was the image of a typical hospital room — cold, bland and dry — that inspired the project's tagline: "no color. no life."
The rooms are designed to evoke feelings of happiness and excitement while exercising the child's imagination.
The first dream rooms were designed at the Rafik Hariri University Hospital before more rooms were converted at Makassed General Hospital, Al-Zahraa University Hospital, and Hotel-Dieu de France University Hospital. The group plans to expand the Dream Floor Project to other hospitals throughout Lebanon.
"Children with cancer have to get chemotherapy and as a result, their immune systems collapse and they are isolated," Sinno says, explaining why the rooms are needed to transform the young patients' attitudes and outlooks. "Some of the kids stay in the rooms for three or four months continuously, so our idea was to have these rooms be interactive."
Hotel-Dieu was the latest and largest project, which was finished in December 2009 and included the installation of 18 dream rooms, three corridors and a playroom — all financed by a wealthy cancer survivor who saw a Toufoula advertisement on TV and felt compelled to make a contribution.
The children have reacted with heart-warming enthusiasm, says Sinno, as she recalls visiting one young girl in a bikini "surfing" in her room, which was designed to resemble a beach.
Toufoula is composed of seven board members — including five LAU graduates — and hundreds of volunteers that contribute their time, efforts and personal funds to helping the children.
How it all began
The idea for the organization began when Sinno's sister, Yasmine, observed first hand the lonely, emotionally traumatizing times child patients experienced, while she was working at a hospital. She urged her friends to get involved, and they started out by bringing the children gifts and organizing carnivals.
"Our group of volunteers continued to increase and we began to have various university students working with us from LAU, AUB, LIU, BAU and others," says Amal El Kabbout, another Toufoula board member and 2004 LAU graduate, as she explains how the group was born.
"Many of our sponsors encouraged us to form an NGO to help even more kids since we proved to excel. And consequently, we formed Toufoula," she adds.
Then, after one successful carnival in 2006 at BIEL, El Kabbout explains, Yasmine and LAU graphic design instructor Silia Abou Arbid, an active Toufoula member, put their heads together to contemplate what more could be done to reach out to the children and as a result, the idea for the Dream Floor Project was developed.
Aside from organizing carnivals and donating gifts, the group also helps children pay for operations, treatments or medication through donations from Toufoula's modest treasure chest, or by appealing to donors.
Upcoming workshops for children
Recently, Toufoula's efforts caught the attention of Dr. Mirvat El Sibai, LAU assistant professor in the Department of Natural Sciences, who proposed collaborating on a project with the group to organize art workshops for hospital children.
El Sibai says she has already spoken with some LAU faculty members, such as photography instructor Bassam Lahoud, who have shown interest in the plan, which will offer the children lessons in photography, ceramics and craft, and drawing and painting, followed by a large exhibition.
No exact dates have been set for the workshops, but if everything goes according to plan, they will be held in the spring on LAU's Beirut campus, in collaboration with the Red Cross student club.
El Sibai says the objective of the project is two-faceted: to expose the children to a new environment where they will learn new art skills, while offering LAU students the opportunity to reach out to the community.
"It's a way to help the students be more proactive," El Sibai says, adding that she would like to see more students get serious about activism. "It's a venue for them to try and help out."
Students who want to volunteer to help with the workshops project can contact Dr. El Sibai at: mirvat.elsibai@lau.edu.lb.