Commencement fever ripples through LAU
Ceremonies on both campuses elicit pride and idealism among over 1,600 newly minted LAU graduates.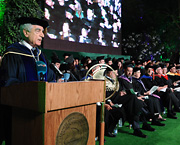 LAU President Dr. Joseph G. Jabbra addressing the graduating class on the Byblos campus.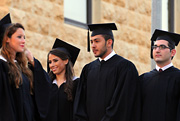 Beirut-campus students await their turn to receive their diplomas.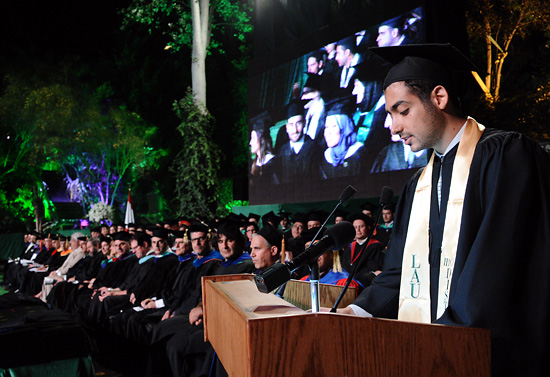 Byblos valedictorian Antoine Boutros Gebrayel.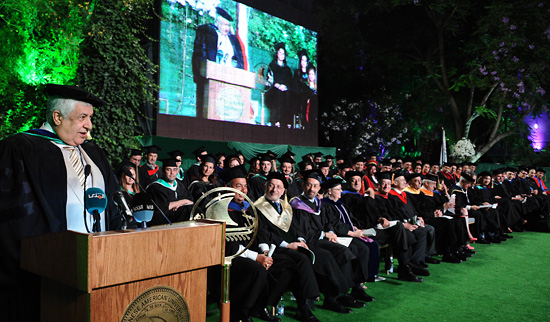 H.E. Amb. Gilbert Chagoury speaks at the Byblos ceremony after having received an Honorary Doctorate in Humane Letters.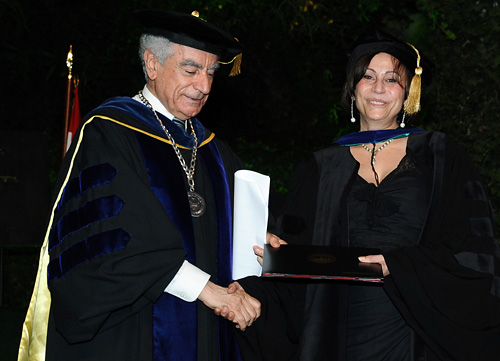 President Jabbra with Mrs. Rose-Marie Chagoury, the second honorary doctorate recipient in Byblos.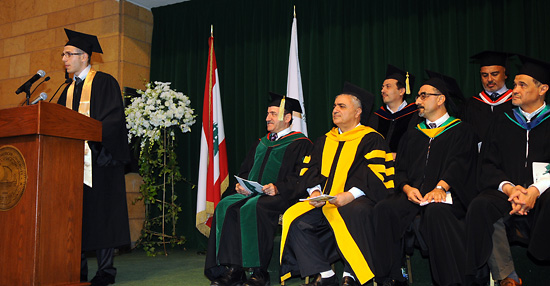 Hassan Abdallah Nasser giving the Beirut-campus valedictorian address on July 2.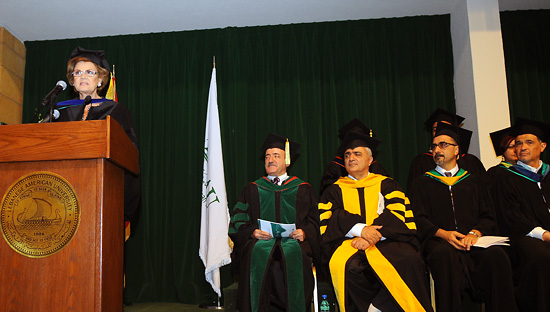 Mrs. Mouna Elias Haraoui, honorary doctorate recipient during the July 2 ceremony, addresses attendees.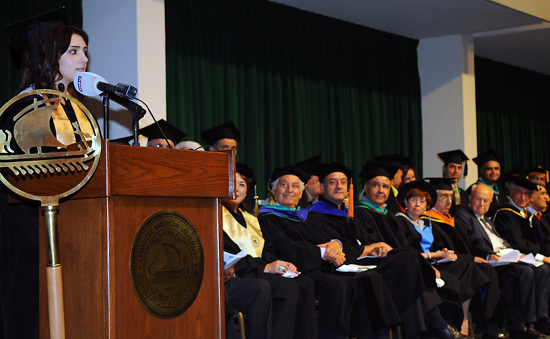 Valedictorian Aya Mohammad Dabbous speaking at the Beirut-campus ceremony on July 3.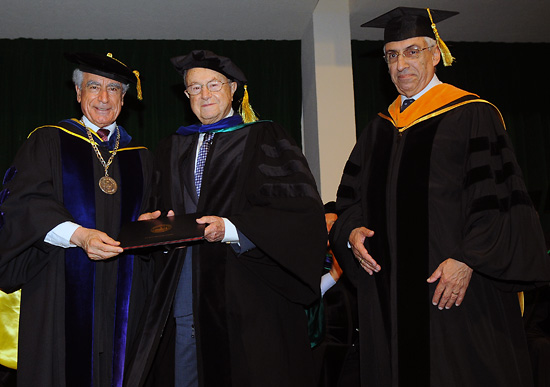 Mr. Said Khoury, honorary doctorate recipient at the July 3 ceremony, with Dr. Jabbra and LAU Provost Dr. Abdallah Sfeir.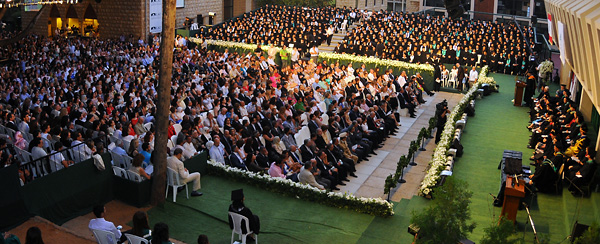 1,212 students graduated at LAU Beirut.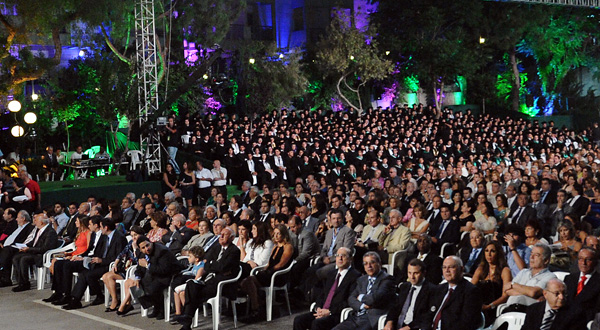 487 students received their degrees at LAU Byblos.
Click on any photo above to view all 11 images.
Hundreds of black mortarboard hats, fireworks and waves of resounding cheers went skyward in a series of commencement ceremonies on both LAU campuses last week. 487 students received their degrees at LAU Byblos (June 30), and 1,212 at LAU Beirut (July 2-3).

LAU Beirut spread commencement over two days because of the high number of graduating students. Saturday's ceremony was for all graduate students and for undergraduate students of the schools of Arts & Sciences and Architecture & Design, and Sunday's for students of the School of Business.
"May you always find success, happiness, and satisfaction in your future careers," LAU President Dr. Joseph G. Jabbra told the graduating class near the close of his speech.
Jabbra's address not only wished the graduates prosperity and success but urged them to live ethical and reflective lives.
"May you be ready and willing to help and comfort all who come to you in need," he said. "May you be wise, strong, gentle, and forgiving. May you always live in the company of your friends, exploring the richness of life, and experiencing the joy of giving all your days."
Honorary doctorates in Humane Letters were conferred on Mrs. Mouna Elias Haraoui, former first lady of Lebanon, founder and president of the Chronic Care Center, and president of the Lebanese Heritage Foundation; H.E. Gilbert Chagoury, ambassador and permanent delegate of Saint Lucia to UNESCO; and his wife, Mrs. Rose-Marie Chagoury; and Mr. Said Tawfic El Khoury, chairman and president of Consolidated Contractors Company (CCC).
Gilbert Chagoury, a diplomat and philanthropist who is a member of LAU's Board of Trustees and has contributed lavishly to the university's new schools of Medicine and Nursing, told students: "I am extremely happy to become, like you, a graduate and alumnus of an institution that I highly admire and truly love."
Chagoury's speech at the Byblos ceremony emphasized the importance of education and philanthropy for the future of the region. "Nation building requires individual and collective sacrifices — it demands enlightened leadership," he said. "As I see these qualities reflected on your radiant faces and sense your noble aspirations electrifying this august commencement exercise, my heart fills with hope for a better future for Lebanon, for this region, and for humanity."
Haraoui's honorary doctorate speech on Saturday echoed this theme of national solidarity and idealism. Stressing her dedication to her own chosen causes — "the least privileged and the most needy, women's rights and Lebanon's national heritage" — Haraoui then turned to the next generation's civic leadership.
"Let us dream this evening," she resoundingly concluded, "of a Lebanon where human dignity, integrity and respect of diversity prevail, where human rights, social justice and dialogue dominate, where allegiance to our nation has priority over all other considerations."
In his honorary doctorate speech on Sunday, Khoury said he has followed up closely how LAU transformed throughout the years from a small college for women to a "world-class" university undergoing continuous growth.
"A quick glance at the path this institution was able to pursue in the past few decades will assure us that behind all this great success is the hard work and great creativity [of its people] from academic, planning and financial perspectives," Khoury said.
He added: "There is no doubt that LAU's success is due as well to its existence in Lebanon, this small country that was and still is the home of great people who love education and culture."
Inspiring speeches were also given by the class valedictorians. In Saturday's valedictorian address, Hassan Abdallah Nasser stressed the transformative power of a university education. On Sunday's ceremony, valedictorian Aya Mohammad Dabbous suggested that education does not end with graduation, and she amused the audience by citing wisdom from the children's show Sesame Street.
Byblos valedictorian Antoine Boutros Gebrayel highlighted the importance of "emotional intelligence." He concluded on a wistful note: "As we close this chapter and continue to write the pages of our lives, let's never forget the bridges we've crossed, the bonds we've shared and the memories we've made."