Communicating design
Dr. Yasmine Taan, associate professor in the Graphic Design Department, talks about the evolution of her discipline and explains how LAU is adapting its curriculum accordingly.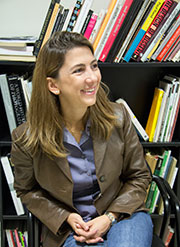 Dr. Yasmine Taan is an associate professor in the Graphic Design Department.
How is technology shaping and reshaping graphic design?
It all started with the release of the Apple Macintosh computers in 1984. Since then, technological innovations and later the emergence of the global networks have tremendously shaped and reshaped the graphic design profession. The advancement of technology, the speed and the amount of images the average human being is exposed to on a daily basis is altering the way people see and access information, and consequently the way designers produce visual information.
With new responsibilities and features - digital pre-press artwork, Web-design and 3-D animation - designers are constantly learning new software and have to excel in visual literacy, research and writing skills, as well as critical analysis.
Where does it stand in relation to art?
Artists and designers attempted to collapse the hierarchical relationship between the "fine arts" (painting, sculpture and architecture) and the 'less esteemed crafts' (including graphic design).
This fine line between high and low art was first challenged by Walter Benjamin in 1936 as he argued that the copy is valued as much as the original artwork.
Later, through concepts of commercialism and mass culture, pop artists like Andy Warhol as well as the situationists, led by Guy Debord, challenged the concept of high art by blurring the distinction between high art and popular culture.
Designers consider themselves an integral part of the creative industry and indispensable players in national economic growth. However, while their work is based on creating desire for products and services within the market place, they do not consider themselves to be commercial artists. We can say designers do branding and create desires while artists produce artwork for its own sake. The graphic designer is a mediator between the client, the market, and the consumer.
What about the other creative industries?
Graphic design plays a role in shaping people's experiences in everyday urban life, focusing on interactions between people, environments, communication systems, and products. It challenges consumers to rethink traditional notions of identity, design, and production. It deals with socio-cultural and economic strategies at the crossroad of psychology, ecology, sociology and anthropology to name just a few disciplines, hence why it is becoming more complicated to define.

Why? Do you think is the name 'graphic design' outdated?
Labeling this young discipline 'graphic design' is too confining. As a matter of fact, the majority of graphic design programs in the U.S. have dropped the 'graphic' from their program title.
As I have mentioned earlier, the field examines the social and cultural ramifications of communication, therefore, "communication design" or "visual communication" seem to address the transition from old to new media. Some designers would like to be called today, 'information architects', which, as the Web becomes a dominant presence in design practice, gained popularity along with 'user-interface designer', and 'human-centered interface designer'.
What is being done at LAU to adapt to that trend and how is the message relayed to the students?
The Bachelor of Science in Graphic Design curriculum at LAU is constantly reviewed to meet the demands of the market and the rapid technological advancements. The program is currently anchored by two core areas of inquiry: typography/print and interaction/digital. From there, students investigate various approaches, methods, and media through a selection of courses, that culminate in the students final projects. In addition to their studio classes, students enroll in art and design history and theory courses, acquiring research, writing, and critical reasoning skills while developing conceptual foundations for creative inquiry.
Designers, nowadays, need to be responsive, versatile, and knowledgeable problem solvers. The focus of such a curriculum should be to enlarge the scope of design education further to encompass social, cultural, and ecological discourses in addition to passionate and creative skills in seeking innovative visual solutions.
I believe that whether on a page or a screen, designers still have a lot to explore.