Communication Arts students bring LAU to NYU Abu Dhabi's Global Shakespeare Student Festival
Four LAU acting students travel with Dr. Lina Abyad to represent LAU and bring their theatre expertise to NYUAD.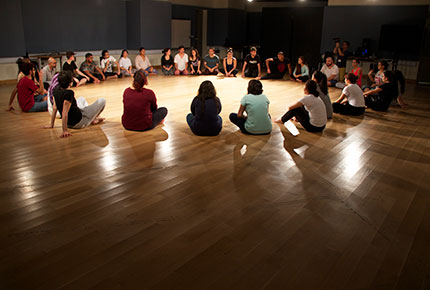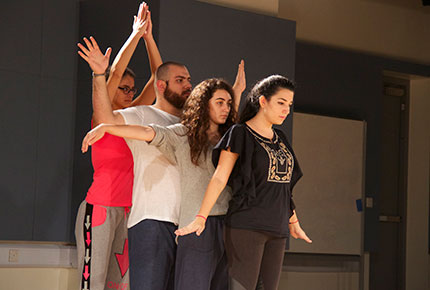 Associate Professor Dr. Lina Abyad and four theatre students recently returned from the UAE, where they participated in New York University Abu Dhabi's (NYUAD) Global Shakespeare Student Festival 2014.
This is the second year that Abyad and her students have been invited to participate in the festival.
The November festival was attended by groups from Singapore, Chile, UAE and Egypt, with LAU representing Lebanon. The sessions included master classes by various theatre professors, as well as student-led presentations and workshops.
For her master class, titled "Exploring Cross-Gender Casting," Abyad discussed the history of all-male casting for original Shakespearean productions due to social and legal constraints. She gave an overview of different casting of the Bard's plays in various contexts, including all-female productions. The participants were then asked to reflect on the opportunities and/or challenges offered by cross-gender casting.
LAU's students — all members of Abyad's Advanced Acting Technique class — led a workshop titled "Fluid Shakespearian Sculptures," which translated Shakespearean themes into movement and theatrical images. Walid Saliba is still buzzing from the experience. "We grew so much in those few days meeting so many wonderful people from all over the world," he enthused, adding: "We learned that theatre is life."
The budding actors also prepared a performance titled "To Thera-Be or not to Thera-Be," where five Shakespearean characters are waiting for a therapist in a waiting room.
Initiated in the fall of 2009, the festival is co-directed by NYUAD associate dean of Humanities Cyrus R.K. Patell and Rubén Polendo, NYUAD executive director of the Arts, Theatre program director and associate professor of Theatre. "We want to take a critical look at the processes that made Shakespeare into 'Shakespeare' as we know him today," says Patell.
The project uses a global approach to study Shakespeare's legacy throughout the world, investigating his "worldly approach" in playwriting, looking at past publications, performances and criticisms of his plays, as well as studying global media forms such as plays, novels, films and visual art.
Abyad was impressed by the impact of the festival. "With his iambic pentameter, complex plots and convoluted comedies, Shakespeare can be intimidating for students as well as for those who are not native English speakers around the world. All these different workshops we participated in shifted that; we experienced Shakespeare as our contemporary in a palpable, universal and multi-linguistic way," she explained.