Communication arts students set the scene
The fall 2013 student film screening honors five budding young directors.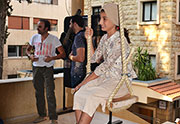 A live installation featuring the young actress from Mulberry Swing.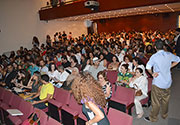 The audience boasted students, actors involved in the shootings, TV stars and prominent alumni.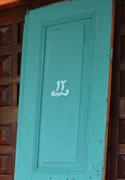 A prop from Mazen Saad El Din's Raqam Ghorfa 12.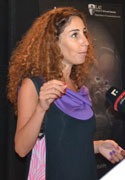 Jury member and instructor Lina Khoury discussing the event with the media.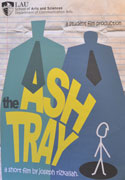 A poster created by finalist Joseph Rizkallah to promote his film.
Click on any photo to view all five pictures.
LAU Beirut was brought to life with some of its communication arts students recreating shots from their publicly screened films on campus earlier this month. Family, friends and TV stars cheered the five budding directors whose productions were shortlisted by a panel of jurors composed of faculty members and prominent alumni in the field. A previous screening in May originally showcased twelve student productions.

"When you bring a jury to a film screening, they look at lights, assess the cinematography and scrutinize the acting. They didn't do that this time," said Annie Tabakian, a studio technician in the Communication Arts Department who worked closely with the students. "They took the whole picture and considered what the director wanted to say, if he/she was able to say it in the right way, and if the tools were used skillfully," she explained.
Finalist Mazen Saad El Din's goal is to make his work "the best it can possibly be - and that cannot be done without the critiques," he said before adding, "These assessments are what push us to excel as directors, and their insight is invaluable."
With a notable legacy of its student films being shortlisted in internationally renowned festivals like Cannes, and even as far as South Korea, LAU has high expectations and the winners are already planning to submit their films to various art and film festivals like ZUMEFF, Meshkal Festival, NDU Film Festival and the European Film Festival.
"Even though these productions were just class projects, students gave it their all. They handled the entire affair from start to finish and their hard work and dedication is what sets them apart," says Dr. Mona Knio, head of the Communication Arts Department. "It is only natural that we help them promote their works through an event of this nature, and with such prominent audience members."
The jury and administrators were most impressed by the collaborative nature of the students and the reactions they had inspired through their work. Hassan Salame, who won the audience and jury vote for Mulberry Swing, had more than 40 LAU students working with him on the film. He describes this experience as one where "the aim was not to get a good mark but rather to take a unique opportunity to work together, to learn from each other, to improve."
Jury member and instructor Tony Farjallah pressed the point that no matter which five films were selected, all the projects are worthy of this recognition, insisting that "they have made us and themselves proud, and we are more than happy to be here promoting the work of these incredibly talented individuals".

The Communication Arts Department wishes to thank the following for all their help with the film screening organization: Ilat Knayzeh, Moe Hissi, Alaa Bachir, Aya Abi Haidar, Dana Atab, Awad Awad, Zainab Ayyad, Youmna Bayoumi, Nur Fakhoury, Sarah Gharzeddine, Kinda Hanna, Alaa Itani, Mahmoud Maarawi, Rasha Moughrabi and Majed Moujaes.