Communication: Key to successful multi-generational family businesses
International expert Dr. Joseph Astrachan sheds light on the myths surrounding family business and the three keys to effective succession.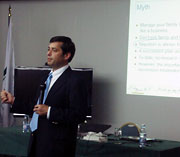 International expert Dr. Joseph Astrachan leads a seminar titled "Success of Multi-Generational Family Business" at LAU Byblos on June 19.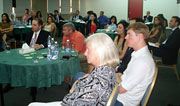 Business owners and entrepreneurs attended the seminar, which was organized by LAU's Institute of Family and Entrepreneurial Business.
Thirty percent of family businesses survive one generation and only three percent persist for four generations, according to research findings voiced during the seminar on "Success of Multi-Generational Family Business" held at LAU's Byblos campus on June 19.
Organized by LAU's Institute of Family and Entrepreneurial Business, the seminar gathered business owners and entrepreneurs to hear Dr. Joseph Astrachan, executive director of Cox Family Enterprise Center at Kennesaw State University in Georgia, USA, share his long-standing expertise and professional advice.
In her opening note, Dr. Josiane Fahed-Sreih, IFEB director, highlighted the significance of the seminar, marked by the presence of E.M.B.A. students from Kennesaw State University who were visiting Lebanon. The 18-month E.M.B.A. program at Kennesaw State takes 15 students, who hail from family businesses worldwide, to the home country of each student, allowing them to learn firsthand about family dynamics and communication.
In presenting his study "Separating Myth from the Reality of Family Business," Astrachan refuted the myth that planning assures effective succession. "The three keys to successful succession are: Board of directors, strategic planning, and family meetings, which I dub as the 'Diet,' 'Exercise,' and 'Don't Smoke' of family business," he said.
Strategic planning entails opening the lines of communication with the top management about the direction of the business, while family meetings help to set expectations, Astrachan explained. He added: Board meetings, ideally taking place three-six times per year, are meant to keep management accountable. According to research, having two outsiders to each family member on the board improves performance, not to mention that outsiders increase financial value.
"Family businesses don't survive because of bad family dynamics and hard-fought trust," Astrachan said, adding: "Relationship quality is needed to withstand the stress on family life and is highly dependent on the frequency of communication, average length of each communication, and average depth of communication."
"It is important to be aware of the challenges and deal with them as they arise through open communication," commented one of the attendees, Momtaz Daaboul, managing director of his Damascus-based family business, Madar Coil Coating.
For Georgina Ibrahim, a self-employed soft-skills trainer and a faculty member at LAU's School of Business in Beirut, the seminar allowed her "to gain an insider look into family businesses." Although it depends on each case, "there is no doubt that the role of communication is paramount for the success of any family business," she added.
Since its inception, IFEB has had a packed calendar of activities. High on the list are educational programs and seminars about family business featuring local and international speakers.
This year, IFEB is launching the Family Business Network and an arbitration chamber to assist family businesses in conflict resolution.