Computer Science program formally accredited by ABET
LAU's B.S. in Computer Science receives stamp of approval from the Accreditation Board for Engineering and Technology.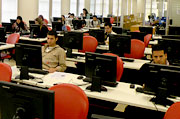 Program facilities, the student's technical knowledge, alumni successes and faculty publications were some of the aspects evaluated by ABET's visiting team.
LAU's Bachelor of Science degree program in computer science has formally been accredited by the Computing Accreditation Commission of the Accreditation Board for Engineering and Technology (ABET), a prominent U.S.-based agency that evaluates programs in applied science, computing, engineering and technology.
The university now has the first and only ABET-accredited computer science program in all of Lebanon.
Following closely on the heels of ABET's accreditation of all undergraduate degree programs in the School of Engineering, the announcement triggered a wave of elation in the LAU community.
LAU President Dr. Joseph G. Jabbra greeted the "thrilling news," describing it as "a remarkable success story to be added to that of the School of Engineering" last week.
"LAU is on an unstoppable roll," said Jabbra in a university announcement, thanking the faculty and staff of the Department of Mathematics and Computer Science, Byblos departmental chair Dr. Haidar Harmanani, LAU Provost Dr. Abdallah Sfeir, and the School of Arts & Sciences' outgoing deans Dr. Samira Aghacy and Dr. Fouad Hashwa.
Sfeir seconded Jabbra's remarks in an email announcement to the community, describing ABET accreditation as a "landmark achievement" for LAU. Sfeir also gave general credit to LAU's institutional culture of rigorous assessment and review, a legacy of its recently completed five-year strategic plan.
"LAU got better today, and it gets better every time we demonstrate our commitment to the virtuous circle of assessment, evaluation and improvement," Sfeir wrote. "ABET accreditation of the computer sciences program is an exceptional accomplishment on this route."
Formal ABET approval capped years of preparation by the department. A joint message from Dr. Harmanani, who was the principal coordinator for the accreditation push, and Dr. Samer Habre, chair of the department at LAU Beirut, cited the "hard work and dedication of all entities" of the departments on both campuses throughout 2010, including administrative assistants and computer center staff. The chairs noted that "faculty members in particular worked endless hours revising the curriculum, assessing outcomes, and making the necessary recommendations for improvement."
ABET's visiting team evaluated the program in November of last year, and submitted an overwhelmingly positive report. According to Dr. Harmanani, the team was especially impressed with students' technical knowledge, alumni successes, faculty publications and university facilities for the program.
Other positive signs similarly emerged, long before ABET's decision was announced. Months ago an ABET official wrote to Harmanani to inform him that an exhibit of thorough and well-written institutional self-studies displayed at the April 2011 ABET Symposium had selected LAU's for inclusion.
Describing LAU as a regional "pioneer" in computer science, Habre said ABET's imprimatur would yield tangible benefits beyond formal recognition, including increased enrollments and "improved scholarly output of faculty, strengthening further our position in Lebanon and the region."
Several computer science students were especially active in the accreditation initiative, and described themselves as thrilled by the news. Gioia Wehbe and Omar Omran, chairs of LAU's chapter of the Association of Computing Machinery (ACM), both said the program's new status would boost students' prospects for admission into competitive graduate schools, and ACM vice chair Nour Mohtadi suggested that top companies would be more likely to aggressively recruit from the program's undergraduates.
"What ABET does is set a quality stamp," Harmanani affirmed. "It says, 'there are all these universities, and then there is LAU.'"
Stressing that accreditation must be renewed after six years, however, Harmanani counseled against complacency. "The challenge for us is to insure that we maintain this quality level," he says, pointing out that a new ABET coordinator will be tasked with managing the ongoing assessment necessary for reaccreditation down the line.