Computer Science Summer Institute gives high schoolers a taste of college life
Over 30 high school students come to LAU Byblos for a week of learning and practical applications of web-programming concepts.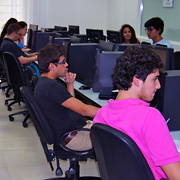 High schoolers participate in a practice lab during the Computer Science Summer Institute, LAU Byblos.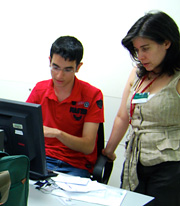 Dr. Danielle Azar, assistant professor of computer science at LAU Byblos and a guest lecturer during the institute, offers assistance to a student.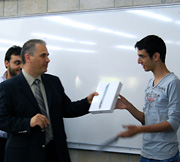 Dr. Haidar Harmanani, professor of computer science and chair of the LAU Byblos Department of Computer Science and Mathematics, gives first-prize winner Michel Semaan from Baouchrieh Adventist Secondary School an iPad2.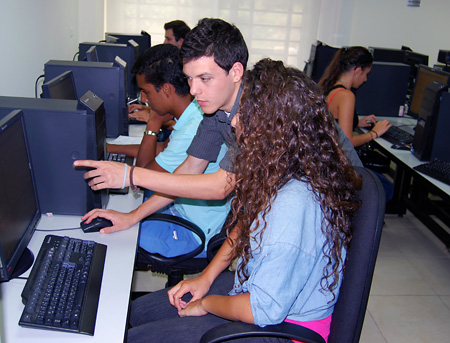 Computer science student at LAU Byblos Joseph Junior Sfeir, who served as an instructor during the institute, guides a high school student.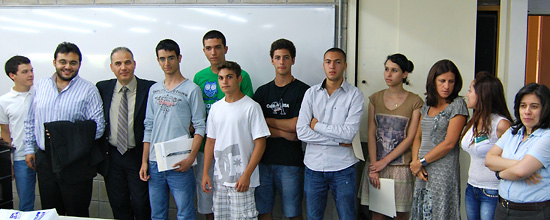 Winners of a 15 percent scholarship to LAU gather after the awards ceremony.


Honorary Mention winners, who received $50 for their hard work and creativity, gather at the end of the five-day institute.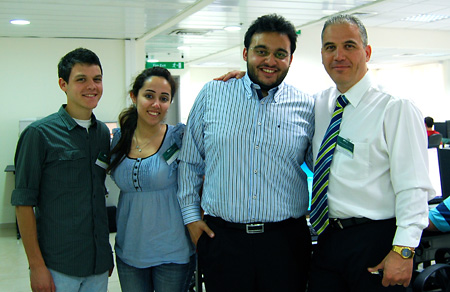 From left: Joseph Junior Sfeir; academic assistant at the department Sandra Akiki Zeidan; Academic Computer Center administrator and institute instructor Fouad Kada; and Dr. Harmanani.
Click on any photo above to view all seven images.
A group of 33 high school students learned a range of IT skills, from using HTML to developing Facebook applications, during the Computer Science Summer Institute, held June 27-July 1 at LAU Byblos.
"The institute is the first of its kind in Lebanon," says Dr. Haidar Harmanani, professor of computer science and chairperson of the Department of Computer Science and Mathematics at LAU Byblos. "We felt a strong need to promote the field among high school-aged youths, given the country's shortage of computer science majors, and show them that computer science is about more than writing programs — it involves creativity and innovation," he adds.
Organized by the department, the program consisted of a series of guest lectures as well as practice labs led by two instructors, Byblos Academic Computer Center administrator Fouad Kada and Byblos computer science undergraduate student Joseph Junior Sfeir.
After learning the fundamentals of web programming, the students, who were selected from a pool of 62 applicants, spent the final three days developing a web application as part of a competition to win an iPad2.
Michel Semaan from Baouchrieh Adventist Secondary School won the prize for his pattern-recognition web application, which involves DNA testing and bioinformatics. It recursively performs pattern matching based on two characters and guesses the repeated pattern.
"His application used HTML stylesheets, PHP and MySQL, and had an Ajax-enabled front-end, which gave it an advantage over the other web apps," explains Harmanani.

Semaan, along with five other students who got the highest marks on their web-application project, also received a scholarship worth 15 percent of tuition fees to attend LAU.
"This was the first time most of the students experienced college life, and now many of them want to know how they can enroll at LAU," says Harmanani. "We even had some saying that they initially were considering to study medicine or engineering, but now are thinking of choosing computer science."
"It was a perfect week and a perfect program," says Maroun El Kosseifi of Lycée Nahr Ibrahim. "We had the benefit of having amazing and patient teachers, great computer equipment, and a beautiful university."

Thanks to the sponsorship of Dr. Georges Harik, a major LAU donor and renowned computer scientist, the program was offered for free.
All the students received certificates of participation.
The students with the top five projects (that received scholarships to LAU) were as follows:
Michel Semaan (Baouchrieh Adventist Secondary School)
Christopher Gunstone (Notre Dame de Louaize College)
Tony Sassine (Lady of Balamand High School)
Basil Karam (David Karam Educational Center)
Salma Bakhit (Antonine Sisters School) and James Karam (Notre Dame de Louaize College)
In addition, 10 more students received Honorary Mentions in the amount of $50 for their considerable efforts and hard work.
LAU Beirut has also been hosting a summer computer science training program for high school students.