Conference room dedicated to late-LAU board member
Former chairman Board of Trustees member is remembered on the one-year anniversary of his death with a new conference room at LAU Byblos.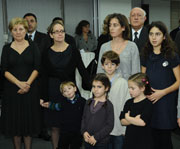 Mrs. Mona Jamil Iskandar, Mrs. Benny Iskandar, Mrs. Laudi Iskandar Essayli (Mr. Iskandar's daughter), and the grandchildren of the late Jamil Iskandar, at the room dedication ceremony alongside members of the LAU community.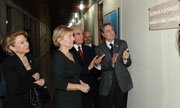 From right: Former Lebanese President Amine Gemayel, Dr. Joseph G. Jabbra, Mrs. Mona Jamil Iskandar, and Mrs. Joyce Amine Gemayel, all attend the ceremony dedicating the conference room at LAU's Byblos campus in honour of the late Mr. Jamil Iskandar, who was a longstanding member of the LAU Board.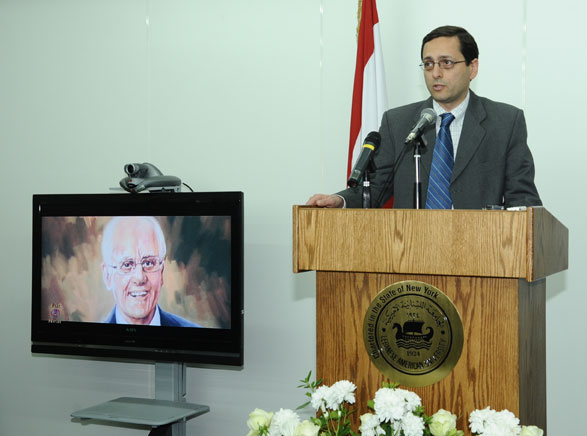 Dr. Benny Iskandar, son of Mr. Jamil Iskandar, addresses the audience at the ceremony dedicating the conference room at LAU's Byblos campus in honor of his late father, who was a longstanding member of the LAU Board.
Click on any photo above to view all three images.
Family and friends of the late Jamil Iskandar, a long-time LAU Board of Trustees member, honored him with the unveiling of a new conference room dedicated to his memory during a dedication gathering at LAU Byblos on December 16, just over one year after his death.
Plans were set to establish the Jamil B. Iskandar Conference Room — also known as room #606 in the Byblos Science Building — in August 2009 by members of Iskandar's family.
"Jamil Iskandar was everywhere, not only in terms of business, but in terms of cultural presence, social presence, and community presence," said LAU President Dr. Joseph Jabbra during a short ceremony prior to the unveiling.
Iskandar, who died of cancer on December 8, 2008, led several successful businesses in Lebanon, and was associated with many universities in the country. He dedicated much of his personal time to serving the community through his involvement in various foundations.
"He was involved in so many community activities but the most dear to his heart was education," Jabbra added.
In 1978, Iskandar founded the Louaizeh College for Higher Education in Zouk Mosbeh.
From 1983 until his death, he held a number of positions at LAU, including serving as a member of the Board of Overseers. He was also a member, the vice-chairman and the chairman of the Board of Trustees during different periods.
"His service to LAU was not utilitarian — it had nothing to do with recognition or prestige," said Benny Iskandar, Jamil's son, during the ceremony. "It was plain and simple a labor of love, a sense of civic duty, and an appreciation of science and education."
From 1987 till 1994, Iskandar also served as a member and chairman of the Board of Overseers at Notre Dame University, then as a member of its Board of Trustees from 1994 until his death.
At Iskandar's Alma Mater, the American University of Beirut, he was a member of the College Hall Fundraising Committee from 1994-1997, and then the vice-chairman of the Students Scholarship Fund Raising Committee from 1997 till his untimely death.
"He had no hidden agendas or ulterior motives. Instead, he looked people straight in the eye and spoke his mind," Benny said. "For many of us, he was simply the kindest of men — the man with the biggest heart."
The ceremony was attended by many local officials as well as senior management at LAU.