Conflict prevention summer program at LAU concludes another successful year
LAU's Institute for Peace and Justice Education held its fifth annual Summer School on Conflict Prevention and Transformation, gathering 30 young participants.

IPJE summer school students during a group activity.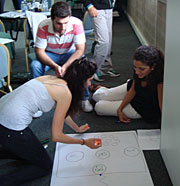 Summer school participants prepare a poster for an in-class presentation.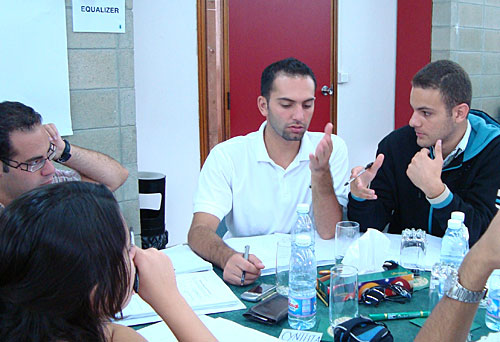 A team of participants devise a plan during an in-class activity.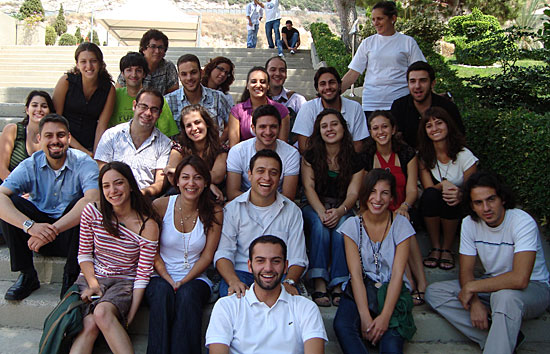 IPJE summer school participants with instructors on the Byblos campus.

Click on any photo above to view all four images
A diverse group of 30 young participants gathered to learn peace-building skills and to confront prejudices at the annual Summer School on Conflict Prevention and Transformation, an education and training program organized by LAU's Institute for Peace and Justice Education from August 16–25 on the Byblos campus.
The participants, most of them students from universities throughout Lebanon, were in part chosen to represent the religious, ethnic and geographic diversity of the country. There were even two graduates who traveled from Palestine and Egypt to participate.
"We want the summer school to be like the microcosm of Lebanese society," says Dr. Irma-Kaarina Ghosn, IPJE director and architect of the summer program, which is co-financed by the United Nations Development Program and the Mennonite Central Committee.
The participants spent 10 days together on the campus and attended classes to learn how to address conflict, "an ever-present part of human life," according to Ghosn.
"I see an urgent need for young people, who are the next generation of leaders, to understand conflict and how to manage it constructively," Ghosn says. This "can lead to positive change," she adds.
The courses hit on a variety of touchy — sometimes taboo — social and political issues in the country, ranging from premarital sex to the debate over Hezbollah's weapons.
"It's the first time that I can talk about these subjects with a group of people who are mature enough to handle them and who practice active listening in a way that allows us all to get something out of the conversation," says participant Eric Knaider, a 21-year-old LAU business and marketing student.
Like most participants, Knaider says the courses have encouraged him to pass on what he has learned to friends and other members of the society in hopes of spreading awareness and creating a stronger and more unified country.
For the first time, the organizers divided the participants into two groups: one group of 20 students for the traditional course, and a second group of 10 veterans who had previously participated in the same program but returned to take part in a special advanced course.
During one of the activities that involved both groups, the participants were asked to act out situations they had witnessed that might set the stage for conflict.
One group presented a scenario of a car stopped at a red light while the driver in another car behind it agitatedly honked, spit and gestured for the car ahead to run the red light.
Participants began offering comments after the skit was over, mostly criticizing the impatient driver until one participant from the advanced group asked his classmates to step back and assess the situation by taking all factors into account before jumping to conclusions.
"We have all fallen into the trap of assuming that one party was right," the participant said. "No one asked the driver why she needed to run the red light — maybe there was a good reason, maybe she had a patient that needed care."
The point reverberated well, shedding light on an important element of the training that shows how lack of communication and failure to engage in dialogue may lead to misunderstandings and conflict.
For the past five years, IPJE has hired experts from Consensus, a negotiation and conflict-resolution consulting private firm based in New York, to help develop the curriculum and activities for the summer program.
"Lebanese youths have a very clear sense of what's wrong," says Zachary Metz, the director of the company's Peace Building division who led many of the activities. "They are aware of the challenges that face their generation and are passionate about addressing them."
"What we're trying to do," Metz adds, "is orient their work … toward sustainable peace and justice."
Read the story on last year's summer school.