Congratulations to the Adnan Kassar School of Business
The LAU community applauds the school's AACSB prestigious accreditation and its well-earned ranking among the best 5 percent business schools worldwide.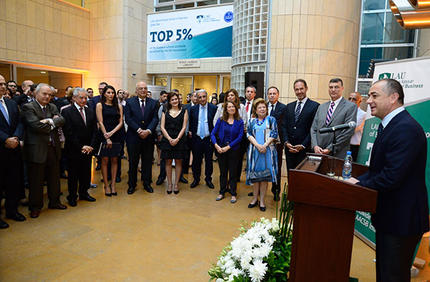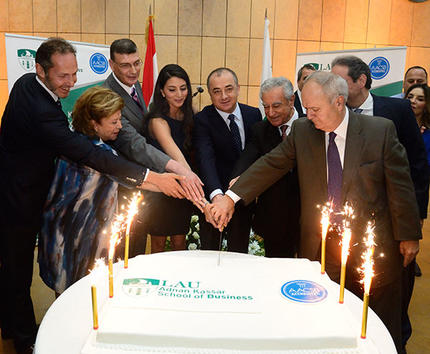 Accompanied by the gentle notes of a saxophone, students, faculty and the whole LAU community gathered on May 9 to celebrate the outstanding performance of the Adnan Kassar School of Business and its recent accreditation by the Association to Advance Collegiate Schools of Business (AACSB).
"Normally it takes seven years for a school to be accredited, we have done it in four," said Interim Dean Said Ladki. "What an achievement!"
Such a result was made possible, according to Ladki, by the hard work of both students and staff, who rolled up their sleeves to bring the institution in line with the 15 pillars that constitute the criteria for accreditation.
"Your skills have been instrumental in fulfilling the promise of the Adnan Kassar School of Business," said Ladki.
The AACSB accreditation is the most prestigious accreditation for business schools and programs in the world. The association has rigorous standards for evaluating educational quality, all of which were met by LAU during the latest AACSB Peer Review Team visit that took place in mid-March.
The official result, communicated to the school in April 2016, recognizes LAU's school of business as being among the best 5 percent worldwide.
During the ceremony, LAU President Joseph G. Jabbra recalled the moment in which he received the notification from the accreditation body. "It was so rewarding to read the report," he said. "At the end of each evaluation I read: standard met. What a source of pride for all of us!"
The achievement was welcomed by the Minister of Education and Higher Education Elias Bou Saab, who praised LAU's commitment to positive change within its community and defined the achievement as an accolade for the whole country.
His view was shared by Raida Daouk, who spoke on behalf of Adnan Kassar, congratulating "LAU for gaining a place of honor at the international level."
While this is an important milestone in the history of the university, it is by no means the end of the journey. As Provost George K. Najjar underlined, "this accreditation comes with a challenge: keep on performing as a top business school." However, the support shown at the ceremony―as well as throughout the four years building up to the accreditation―is proof that the LAU community is committed to working together to maintain this standard. "With such support," said Najjar, "the success of the Adnan Kassar School of Business can only grow."