Connecting through dance: an evening of dance and discussion
Fadi J. Khoury's FJK Dance company enchants audience with a fusion of classical, Latin and Oriental dance forms at LAU NY.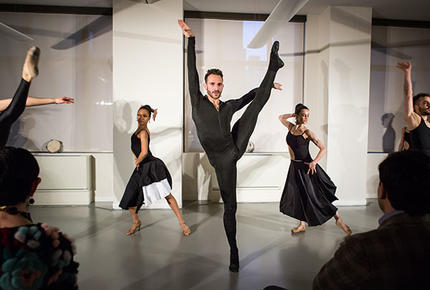 "Dance is the hidden language of the soul," American modern dancer and choreographer Martha Graham once said. Fadi J. Khoury, artistic director and choreographer of FJK Dance would agree. With each and every performance, he brings a bit of his soul to the stage which those present at LAU NY on April 28 were fortunate enough to behold.
In an evening entitled, "Connecting through Dance: The Art of Fusing Various Dance Styles," Khoury, his collaborator Turkish dancer Sevin Ceviker and nine other members of the company lit up the floors of the New York Academic Center. In between dances, Khoury talked about the origins of the dances, and how his Middle Eastern background inspired him to combine folkloric dance with more classical dance forms.
Born in Baghdad where his father was the artistic director of the National Iraqi Ballet, Khoury, who is Lebanese, was exposed to many folkloric dances of the Middle East. At 13, he moved to Beirut, where he trained in classical ballet and folkloric dance, but also in modern, jazz, and ballroom. With time he started experimenting with combining dance methods.
"As we are mostly performing before a Western audience, it is important that they create the link between what we do and where we are from," he said. "If you give a little bit of background of where these ideas originate, the audience becomes more engaged."
After a brief demonstration of Dabke, a traditional Arab dance in which men dance shoulder to shoulder, he spoke about its origins: "If you go into the background of what shoulder to shoulder means, it is sort of like building a fence. The movement has echoes of security, empowerment, and creating an armor."
It is these messages about Middle Eastern culture that he wants his audience to understand. Associate artist and principal dancer Ceviker did. Instantly.
"When Fadi and I started dancing, it was a mutual feeling of, 'Oh my God―this needs to be a company.' I had danced ballet, modern and jazz, and he did it all in one. It is every dancer's envy," she said.
Some of the other dancers struggled with what Ceviker calls the "ornaments" of Middle Eastern dance: the snake-like articulation of the body, the rotation of the hands, the participation of the fingers, and the ability to isolate the upper spine from the lower spine. But they quickly learned and brought their own expertise to the table. The company's dancers come from Italy, Switzerland, Spain, Cuba, Mexico, Columbia and the U.S. They dance to music ranging from classical, Latin, tango and jazz, to contemporary Oriental. All of the choreography is original.
Longtime Vanity Fair correspondent Amy Fine Collins, who attended the event, said she became a supporter after seeing one performance. "I was moved by the talent, refinement and originality of the company. FJK offers something fresh aesthetically. It is experimental, but very respectful of tradition."
The event was co-sponsored with the Consulate General of Lebanon in New York