Continuing education
LAU's Continuing Education Program honors 192 graduates and encourages them to lead and contribute to society.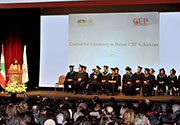 Family, friends and industry professionals attended the graduation ceremony.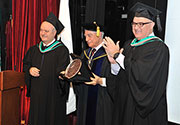 LAU President Dr. Jabbra was presented with the CEP Leadership Excellence Award.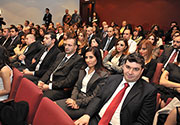 This year CEP honored 192 graduates.
The 2012 graduates of the Continuing Education Program (CEP) walked into Irwin Hall with heads held high and smiles from ear to ear on the evening of January 23. Family, friends, loved ones and industry professionals packed the auditorium to celebrate their accomplishment with them as top Lebanese American University administrators offered words of wisdom and advice.
Addressing the 192 graduates, LAU President Dr. Joseph G. Jabbra stressed the themes of leadership and contributing to the community. Strong, principled leadership, he said, "is so sorely needed the world over but particularly in our own beloved country, in our own beloved region."
He encouraged them to embrace the idea of "transformational leadership," which he said helped make LAU an educational leader in Lebanon and the Middle East.
"We are part of society and have an obligation to respond to the needs of society," he reminded the audience while noting that, "If we are to serve our community, we must sacrifice."
LAU Provost Dr. George Najjar described the event as a "celebration of a mindset, a mindset of dedication to lifelong education." He said that by pursuing a CEP certificate, the students were embracing the "spirit of the age," which is defined by a growing knowledge economy in which workers must constantly be acquiring new skills and know-how in "pursuit of a better future."
Dr. Najjar also presented Dr. Jabbra with the CEP Leadership Excellence Award "for unleashing the potential in each individual at LAU by deed, example, accomplishment and inspiration."
Ghada Abou Assaly, a CEP graduate and the master of ceremonies at Wednesday's graduation, praised the program for offering students theories coupled with practice, which gives the CEP added value. "Instead of courses focused on rote memorization of textbooks, CEP gives students practical experience they can apply to their careers," she said.
CEP offers three categories of certification: post-secondary programs such as business, office management, pre-school education and capacity building programs for non-governmental organizations; post-graduate certification in areas such as finance, human resources, security systems, information systems and project management; and continuing professional education programs which promote professional and ethical standards for working professionals.
CEP Director Michel Majdalani said the program gives students "qualifications the market needs" and offers people who never had the chance or privilege to have formal post-secondary education "a chance to grow and feed into the market."
Indeed, the program's mission is to offer adult learners innovative learning opportunities for future business leaders of the community while enhancing performance, promoting professional advancement and encouraging achievement.
Founded in 1980s, CEP has expanded dramatically in the past year. Increasing its certificate-based offerings, the center has established new satellites across Lebanon, bridging the gap between the capital and the rest of the country.
And there is much more to come. Indeed, according to Majdalani there is a "tremendous plan" to expand the program.
"The plan is evolving right now," he said.