Continuing Education Program offers skill upgrades for the new workplace
LAU's Continuing Education Program celebrated the results of its recent expansion drive with a graduation ceremony.

Executive office management graduates.

CEP Acting Director Michel Majdalani gives the preschool education certificate to a graduate.

Fatima Kassir, a preschool education graduate with honors, and Nisrine Katorgi, an executive office management graduate with distinction, give their speeches during the commencement ceremony.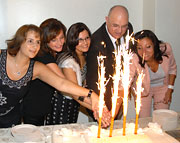 Officials cutting the graduation cake.


Preschool education graduates with program officials.
Click on any photo above to view all five images
LAU's Continuing Education Program has been rethinking its curricula and expanding its offerings, and it celebrated the results of this drive with a graduation ceremony last month.
"We learned to communicate better," said Nisrine Katorgi, who graduated with distinction with an executive office management certificate. "We learned new skills needed in the workplace. We are now equipped with knowledge that will help us keep changing ourselves and our future."
Cooperating with LAU's academic departments and faculty, CEP carries out outreach, educational and training programs for the Lebanese community. The programs cater to non-traditional students and professionals that want to enhance their career options.
CEP recently added preparatory courses for professional certification tests in financial analysis, accounting, information systems auditing, information security management, and human resources.
Certificate programs in preschool education, executive office management, professional fitness, English for professionals, and business for non-business managers are also available.
The courses offered also include other languages, computer graphics, arts, physical education, and special curricula for suspended students.
Many of the courses are run on campus after working hours. The office provides walk-in admission and counseling.
These programs "provide adult learners with a curriculum that is regularly adjusted to social changes and marketplace development with flexible schedule, contents and presentation," said CEP Acting Director Michel Majdalani during the graduation ceremony in Beirut. They "are an attractive and convenient means for personal and professional growth," he added.