Continuing the legacy
Gala dinners by alumni chapters in the Gulf raise $750,000 for LAU student scholarships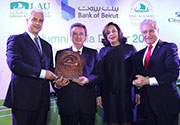 From left to right: Saad El Zein, president of Dubai and Northern Emirates Chapter, Riyad Salameh, Lebanon's Central Bank governor, Adalat Audi Naccash, honorary president of Dubai & Northern Emirates Chapter and LAU President Dr. Joseph Jabbra.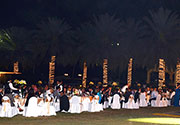 Hundreds participated to the Oman Alumni Chapter gala dinner.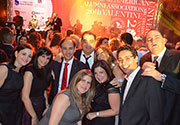 The crowd with Lebanese pop star Ramy Ayyach at the Abu Dhabi Alumni Chapter gala dinner.
Click on any photo for larger version.
They may have graduated, but LAU alumni have not forgotten their alma mater. Gala dinners by three alumni chapters in the Gulf have raised $750,000 to assist needy and deserving students at LAU.
The annual events organized by the Oman, Abu Dhabi, and Dubai and Northern Emirates alumni chapters in February and March brought together several hundred LAU alumni and friends.
Saad El Zein ('89), president of LAU's Dubai and North Emirates Chapter, said the success of the galas demonstrated an enduring commitment by LAU's past students to those of the future. "Education is a noble cause that builds great nations and today, more than ever, we need to support young people in getting a proper education," he said. The money will provide scholarships to academically gifted students at both the Beirut and Byblos campuses.
Oman Chapter President Carla Khalil ('97, '03) said alumni events were going from strength to strength as LAU's reputation for excellence spread across the region. "We are particularly encouraged because more non-alumni are supporting these events and showing interest in sending their children to LAU," she added. "Being a part of the alumni chapter has also been emotionally rewarding and I have forged many new friendships in it."
The scholarship funds will help LAU maintain its commitment to academic excellence and student diversity, said Naim Stephan ('91), president of the Abu Dhabi Alumni Chapter. "We are very proud of the transformation of LAU taking place under President Joseph G. Jabbra's leadership," he said.
Abdallah Al Khal, executive director for Alumni Relations, said alumni events not only provided excellent networking opportunities, but also deepened the spirit of community among LAU graduates and friends. "If well engaged, alumni can play a decisive role in student recruitment and in helping fellow alumni with their careers," he said. "On a financial level, their contributions are pivotal to LAU's development. The extraordinary figures raised at the recent galas demonstrate that LAU's alumni remain dedicated to their alma mater long after they graduate."
The Dubai gala dinner also saw the Governor of Lebanon's Central Bank Dr. Riyad Salameh honored for his role in shielding the Lebanese banking sector from the global economic crisis. Accepting the award, Salameh noted the Lebanese Central Bank had "taken all the measures" necessary to ensure stability among the Lebanese banking sector.
LAU has 36 alumni chapters across the world nine of which  are in the Gulf.
If you would like to get involved with or start an alumni chapter in your area, visit http://alumni.lau.edu.lb.