Cooking with the Stars
LAU's hospitality management program hosts Michelin-rated award-winning chef.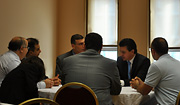 Various Hospitality Management program faculty members welcomed Chef Frederic Vardon (second from right) at LAU.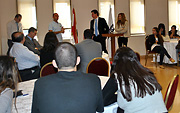 Chef Frederic Vardon answered a question asked by Chairperson of the Hospitality Management/Accounting department Dr. Said Ladki.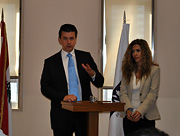 Michelin-rated two-star chef Frederic Vardon at the press release at LAU Beirut.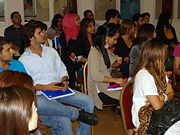 LAU Hospitality and Tourism Management students at the press release.
Click on any photo above to view all four images.
LAU's hospitality management program, in collaboration with the Phoenicia InterContinental Hotels Group, hosted Michelin-rated two-star French chef Frederic Vardon on Friday, October 21.
Vardon, along with the management of the Phoenicia InterContinental Hotels Group in Lebanon, met with students of the program at the LAU Hospitality Management Lab, and held a press release there to officially announce his visit to Lebanon.
"A vital component of our program here is to manage chefs," says Dr. Said Ladki, professor and chair of the Hospitality Management and Accounting Department.
"Introducing the students to prominent international chefs — and helping them to experience a real taste of the industry — is part of the delivery of the program," he adds.
The hospitality management program at LAU began in the 1990s, as part of an attempt to aid post-war economic reconstruction by training students for careers in tourism and hospitality.
Today, the Phoenicia InterContinental Hotels Groups and LAU have formed an alliance, with the former recruiting and training the latter's graduating hospitality management students for a range of positions.
Vardon, an icon of neoclassical French cuisine who collaborated with multiple-Michelin-starred chef Alain Ducasse for 14 years, "reformed modern cuisine as we know it," in Ladki's words.
Traditionally, up to three Michelin stars are awarded to restaurants of superior quality, as well as to highly accomplished chefs.
One star indicates "very good cuisine in its category"; two stars, "excellent cuisine, worth a detour." The three-star ranking is reserved for "exceptional cuisine, worth a special journey."
"There are no fixed rules for obtaining Michelin stars," says Vardon, adding that the Michelin Guide takes into consideration numerous factors aside from cuisine itself, including restaurant design and marketing techniques.
Vardon says off-handedly that eligibility is a matter of filling out and signing a form, signaling "that you accept the rules of having no rules" and consent to being evaluated. The real challenge, he adds, is to keep the stars once you've obtained them.
Along with the Michelin stars comes an increase in expected revenues. Once one, two and three stars are awarded, a 30%, 40-45% and 70-90% profit increase may be expected. Obtaining the Michelin stars is not only an honor, said Vardon, but an investment.
Ladki agrees. "We want to teach students how to use the expertise of a professional chef in order to boost their sales in the industry," he says.
The hospitality management program plans to host a three-stars Michelin-rated chef in December, in order to build on the students' knowledge, hands-on experience and exposure to excellence.