Covering wars
LAU Beirut hosts talk with New Yorker journalist Jon Lee Anderson and Deputy Editor of the Daily Telegraph Benedict Brogan.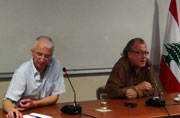 Anderson, right, says that impartiality in journalism does not imply – or justify – the lack of humaneness.
Click on any photo above for larger version.
New Yorker journalist Jon Lee Anderson and Deputy Editor of the Daily Telegraph Benedict Brogan shared their experience on political journalism and war correspondence with LAU students and followers at LAU Beirut.

The talk was organized on July 6 by Nada Torbey, advancement communication manager, and came as part of the Hay Festival, an annual literature event that brings together writers, journalists, bloggers and thinkers.

Internationally renown war reporter - he covered Afghanistan, Iraq, Uganda, Lebanon or more recently Libya - Anderson is mainly known for his best-seller on Che Guevara, first published in 1997, and for revealing the hidden location of Guevara's burial.

According to Anderson, his love affair with journalism started quite late. "I wanted to experience life and did all sorts of different jobs from labor to working as a prison guard - before I fell into journalism," he explained.

By the time he came of age, Anderson had lived in eight different countries, including Colombia, South Korea and Tunisia - a nomadic feature that later helped him in his journalism.

In fact, Anderson's journalist career started in 1979 in Peru as a reporter for The Lima Times - although he maintains that he wasn't even "thinking of journalism" at the time and that the closest thing he had come to in terms of journalism was going on solo expeditions and writing in his journal.

As a progeny of the Cold War, he definitely found his vocation while covering conflicts in Central America in the 1980's.

"War is the motor of History; it formed my father's and my grandfather's generations," said Anderson, stressing the importance of impartiality when one is a war correspondent.
Nonetheless, he argued, the true value of a story can only be exhumed if you look at it through your own peephole - the way you choose to tell it is an art in itself.

But being in a warzone can also - conceivably - be detrimentally consuming, stated Anderson, as he recalled the 2006 Lebanon War, "the strangest war I have ever witnessed." Indeed, impartiality does not imply - or justify - the lack of humaneness.

"It is very important to know when to walk out of your journalistic skin and get involved when you have to," he explained.

Brogan, on the other hand, tackled the less romantic aspect of today's journalism - sustainability.
Questions such as how to sell print journalism and make it pay for itself were brought up, crudely tackled, and weighed against the increasing popularity and practicality of digital media.

Nathaniel George, an instructor at the American University of Beirut and an avid admirer of Anderson's, was very pleased with the event's outcome.
"It was a remarkable talk that brought insight to a lot of different issues related to journalism, especially in times of crisis," he says.