Cross cultural classrooms
LAU students hold Travelling Studios Exhibition showing that experiencing architecture is crucial to understanding.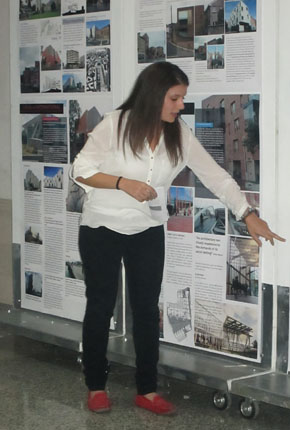 LAU School of Architecture and Design students converged on Byblos campus on Friday October 25 to hold their highly anticipated Travelling Studios Exhibition.
The lucky students travelled to such far-flung places as Tokyo, Cuba, and Portugal as well as Dublin and Belfast, in the summer of 2013, and kept a travel log of their impressions. Accompanied by their instructors, the students cultivated a global sensibility and fully immersed themselves in the architectural environments of their host country.
"This is a very enriching experience for our students," says Dr. Elie Harfouche, assistant professor and coordinator of the Travelling Studios. "It provides them with a unique opportunity to step outside the classroom and acquaint themselves to new cultural settings," he adds.
The students took photographs representing the relationship of culture to the physical environment. "I learned so much from the eight days I spent in Dublin," enthuses fourth-year SArD student Joseph Tabet. "This was the first time I was able to actually experience spaces I had read about in textbooks." The trip encouraged Tabet to appreciate the link between architecture, politics, and sociology. "The Irish are similar to the Lebanese in terms of their emphasis on family relations—this deeply rooted side of the Irish culture is also obviously reflected in the physical setting of their cities," he explained.
Taking photographs and drawing sketches of what inspired them the most, the exhibition presented the findings and ideas the class experienced before, during and after the visits.
"This trip gave me a greater understanding of architecture in general," says fourth-year SArD student Samir Bitou, who also travelled to Ireland. "There were some buildings that I didn't like before actually seeing them in person—the element of actually experiencing architecture is very important to deeper understanding," he added.
Sixth-year SArD student, Lily Hamouche, agrees wholeheartedly. Along with her team, she travelled to Cuba: "It was my first time there and it really made an impact on me—it confirmed my previous belief about the strong relationship between politics and architecture," she said.
"It was like travelling through a time machine," Hamouche added. "I gained so much insight which comes in handy since I am pursuing a minor in political science."
Similarly the instructors also learned a great deal while travelling with their students. Instructor Richard Douzjian, accompanied his students to Tokyo. "Although I had lived in Japan for four years, I gained a completely fresh perspective while examining the city through the eyes of the students," he added.
According to Dr. Jose Manuel Madrigal, associate professor and chair of the Architecture and Interior Design Department, the experience also served to strength the professional ties between classmates and instructors.
"Ultimately, the value of this studio is to explore various cultural contexts and see if the insights gained are applicable to students' own environments," explained Madrigal. "We were very impressed by the level of the students' engagement."