Crossing the OCEAN
LAU hosts the first Study Abroad Day to launch an exchange initiative aimed at the entire university community.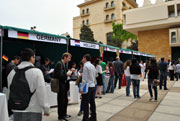 Representatives from top study abroad countries set up informational booths showcasing cultural exchange and study abroad opportunities.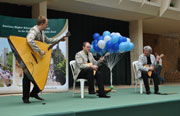 A Russian balalaika performance entertains participants.
Click on any photo above for larger version.
The Outreach and Civic Engagement (OCE) unit hosted the university's first Study Abroad Day on Wednesday, April 18, on the Beirut campus. The event marked the official launch of Outreach and Cultural Exchange Across Nations (OCEAN), a new initiative promoting creative international, civic engagement, leadership, and study abroad opportunities for LAU students, faculty and staff alike.
The festive event included music and performances, and was organized in collaboration with the embassies of many of the top study abroad destinations in the world, including France, Germany, Denmark, Czech Republic, Spain, the Netherlands, Russia, Australia, Brazil, Ecuador, China, Canada, Mexico, the United Kingdom, and the United States.
Representatives from these countries set up informational booths showcasing cultural exchange and study abroad opportunities, and advised students, faculty and staff members on scholarships available to them. Interested members of the community were provided with flyers and brochures outlining the attractions and benefits of studying and working abroad.
At the opening ceremony LAU President Dr. Joseph G. Jabbra said that institutions of higher education helped examine ways to address our cultural differences.
"The question to ask therefore is not how can we secure a better place for ourselves, but rather, how can we secure a better place for others," he added.

"The embassies introduced us to renowned universities that we could approach for international exchange agreements," said Study Abroad & Program Coordinator Dina Abdul Rahman. "Faculty and student preferences are also essential in the selection of appropriate programs and universities abroad."
According to Elie Samia, executive director of OCE, exhibitors answered hundreds of queries. Such enthusiasm he believes lies in the fact that "studying abroad widens students' horizons as it exposes them to rich and diverse academic and cultural experiences offered by renowned universities around the world - a comparative advantage in the eye of prospective employers." he says.
During the event several embassies provided musical and cultural entertainment. The Russian Cultural Center staged a Russian balalaika performance, and both the Brazilian and Mexican embassies organized performances highlighting their folk heritage.
Dr. Said Elfakhani, dean of the School of Business, and Dr. Elie Badr, interim dean of the School of Architecture and Design, spoke at the event, describing study-abroad opportunities available in their respective schools' degree programs. Dean of the School of Arts and Sciences Dr. Philippe Frossard spoke of the experiential, "non-linear" aspects of education, emphasizing the importance of recognizing, retaining and refining what is integral to one's personal and professional growth.
"We experience information in many different ways and it is difficult to select what's important. But this is precisely what we're trying to prepare our students to be able to do," Frossard said at the opening ceremony.
Describing himself as not only a citizen of France but a citizen of the world, Frossard said encouraging students to think of themselves in similar terms is a key goal of LAU's study abroad initiative.