Crowddesigning: exploring urban spaces
LAU School of Architecture and Design students take part in a cutting-edge workshop on CrowdDesigning in New York City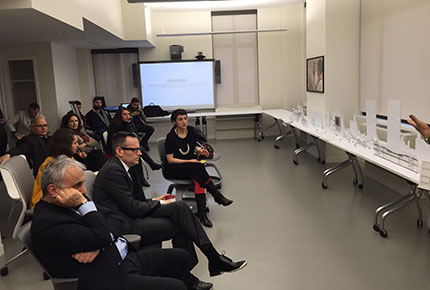 With a population of more than eight million, New York City faces a constant challenge when it comes to crowd control. Last month, 16 students from LAU's School of Architecture and Design (SArD) stepped up to the challenge during a five-day workshop at LAU NY called "Crowddesigning: Exploring Urban Spaces for Collective Action," in which they explored the pressing issues facing public space today as well as possible solutions.
Under the tutelage of Lys Villalba of Spain's Istituto Europeo di Design, the future architects delved into six CrowdDesigning topics: CrowdProducing, CrowdExchanging, CrowdDebating, CrowdSharing, CrowdHealthing and CrowdMaking. Working both independently and in teams, they spent three days brainstorming across multiple disciplines before presenting their final projects to a jury that included Villalba, SArD Dean Dr. Elie Haddad and architects Paul Lewis and Ana Peñalba.
The workshop focused on a famous stretch of Broadway between Union Square and Madison Square that countless city officials and urban planners have used as a canvas for crowd design experiments. Villalba — a Spanish architect, designer and independent researcher — came up with the concept for the course, focusing on ways in which architecture can give back to the city.
It was her first time teaching Lebanese students, an experience she found especially interesting given the cultural differences between the U.S., Spain and Lebanon. "For many, it was their first time in New York, and traveling and discovering another culture is part of what shapes oneself," Villalba said. "It was an amazing experience for everyone."
Hours of classroom conceptualization were accompanied by field visits to some of NYC's key attractions, including the Guggenheim Museum, Central Park and the MoMA, where Villalba's work is currently on display as part of an exhibit called "Uneven Growth: Tactical Urbanisms for Expanding Megacities." But it was the famous 1.6 km High Line — an elevated freight rail line pitched above Manhattan's trendy Meatpacking district and transformed into a free public park — that captured the hearts of most students.
"I like projects [like this] that are open to everyone, but that also don't destroy the environment," said 22-year-old Soumaya Salloumm. Drawing a comparison with Lebanon, she noted that few projects at home have such an impact, citing the newly built exclusive City Center in Downtown Beirut, whose designer shops are well out of reach for most people, and which does not incorporate any green space.
For Mazen Chahabedine, a 23-year-old senior, the workshop was the highlight of his architecture studies. "We used the collective lessons and tools we learned in architecture and urban planning courses, such as construction documents or detailed landscaping, and implemented them in a totally different context, outside of our comfort zone," he said.
This was not the first time SArD students had the chance to participate in an international workshop. In previous years they have attended short courses in Europe, Tokyo and New York, with two groups visiting the Big Apple last summer.