Cultural competence
The Psychology Program explores the role of global and domestic diversity in patient treatment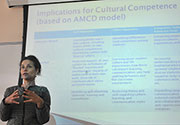 Dr. Sylvia Nassar-McMillan addressing the audience.
Click on photo for larger version.
How culturally competent are you? That question was posed to the audience during a psychology lecture given by Dr. Sylvia Nassar-McMillan at LAU Beirut on April 15.
Nassar-McMillian is a professor and program coordinator of counselor education at North Carolina State University in Raleigh, North Carolina. She addressed a room full of psychology majors, alumni, faculty and school counselors, advising how global and domestic diversity must be accounted for when treating a patient.
"Look around the room at each other," she said as she began her talk, "In what ways are you different?"
After intriguing participants with this opening question, she went on to speak about the factors that must be considered to provide effective counseling services, namely, a patient's socio-political situation, their immigration history, ethnicity, religion, gender, age, health status, and that of their kin and community.
"You can't possibly impact a client's development if you don't know their family background," she said, adding that educational and vocational status were important details too. "Are they voluntary immigrants or involuntary immigrants? Did they stop in a refugee camp? Are they moving to a place that's more diverse or more homogenous than where they came from?"
Nassar-McMillian's expertise is with Arab-Americans, of which there are three to five million in the United States, the majority of whom are Lebanese. Her work on this demographic has led her to serve as an advisor to organizations such as the American Psychological Association and the Arab American Institute.
While Arab-Americans do well economically, she explained, the key issues they face are profiling and discrimination, with a heightened prejudice arising since the September 11, 2001 terror attacks.
The author of three books who is currently working on another, Biopsychosocial Care of Arab Americans: Perspectives on Culture, Development, and Health, she advised students to be mindful of mental health stigmas, particularly in Arab populations.
"It was a new topic for us, and I thought the idea of integrating self-awareness and outside, global awareness in counseling was really interesting," says fourth year psychology student Nadine Diab. "So was the concept of counselors as advocates," she adds, referring to Nassar-McMillian's assertion that counselors are no more observers, but must be active advocates for their patients.
"We always tend to undermine the effects of culture and diversity when it comes to psychology," says fourth year psychology student Ahmad Daouk. "The lecture gave me insight as to how cultural views go hand in hand with counseling and coaching," lamenting that he wished there was time to delve into the topic more deeply.
Dr. Huda Ayyash-Abdo, associate professor of psychology, says they will. "I plan to continue this discussion in my lectures. The openness of the therapist to people of other backgrounds is invaluable, especially as the socio-political situation in Lebanon becomes more polarized."